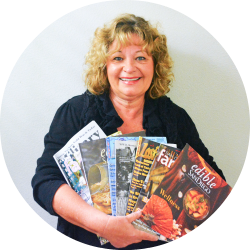 Before I attended the Ultimate Travel Writer's Workshop in San Diego in 2014, I didn't know the journey to travel writing even existed. As a career registered nurse, I thought all magazines had their own writers.  But I was looking for a second career, one that would be much more fun in my retirement years, and thankfully I found it!
So many new or would-be writers want to know the magical "secret" to my travel writing success – how did I get 200 articles published in just two and a half years? The truth is there's very little magic to it at all. 
In the beginning, I followed a process set forth by the workshop and landed my first few bylines. As time went on, I realized that to achieve real success as a travel writer, I had to kick it up several notches. Here are some key elements that worked for me…
1. Commit to being a travel writer every day
Like any skill, to get really good at it, you have to do it often. 
Though I still worked a full-time job early on, I made sure to devote time each day to travel writing. When not actually penning an article, I researched publications, read other writer's stories, or jotted down ideas for my own future submissions. 
I kept a notebook with me at all times, and, when a thought struck, I wrote it down. 
Like the Nike slogan says, "Just do it." Practice makes perfect, and the more you do it, the easier it becomes.
2. Be open to taking other paths
The journey to becoming a travel writer isn't like driving on a smooth four-lane highway. It's more like a country road with bumps, twists, and bends that lead to who knows where.  
On a recent trip to Kauai, Hawaii, my daughter-in-law asked to take a different road than the GPS guided us. Lo and behold, that road took us to the mysterious, enchanting Menehune Fish Ponds – a place I'd failed to find on my last visit. Now here it was, right in front of us. 
And so it's been with my travel writing… from pitching to new publications to writing for a genre other than just pure travel to applying for a press trip I wasn't sure I'd get. Be open to possibilities, and don't be afraid to venture off the beaten path. New doors will always open.
3. Tap the power of networking
No man is an island, so it's important not to isolate yourself. When we interact with other writers—on a press trip, at a writer's conference or through an online group—our base of knowledge increases tenfold. No one knows everything, but each of us knows something, so sharing information helps create endless possibilities. It guides us to paths leading to publications seeking submissions or how to apply for those coveted press trips. 
Networking is by far the most powerful tool a travel writer can own.  It's why I'm so active on the Travel Writer's Café Facebook page and all the event pages I have access to.  I suggest you do the same.
4. Hit editors with a one-two punch
Early on in my writing career, I learned a simple but brilliant tactic that doubled my chances of getting another byline. When submitting, I'd include another one or two pitches for future articles. I already had the editor's attention, so why not hit her up with another well-crafted pitch? I can tell you I've hit a home run every time with this trick.
A quote from an unknown author tells us, "A little progress each day adds up to big results." The journey to my 200 published articles didn't happen overnight. And I'm not stopping there. Step by step, with perseverance and determination, every day I turn my dreams into reality. 
[Editor's Note: Learn more about how you can fund your travels and make an extra income with photography, travel writing, blogging, and more in our free online newsletter The Right Way to Travel.  Sign up here today and we'll send you a new report, Five Fun Ways To Get Paid To Travel: A Quick-Start Guide, completely FREE.]