A few months ago, one of our members, Amy Muschik, emailed me to say that she had earned back her workshop fee within 90 days of attending our Ultimate Travel Writer's Workshop.
It's a promise we make at all our live events – earn back your fee in 90 days or less. So let's take a look at a few things Amy did right… so you, too, can get your travel stories published.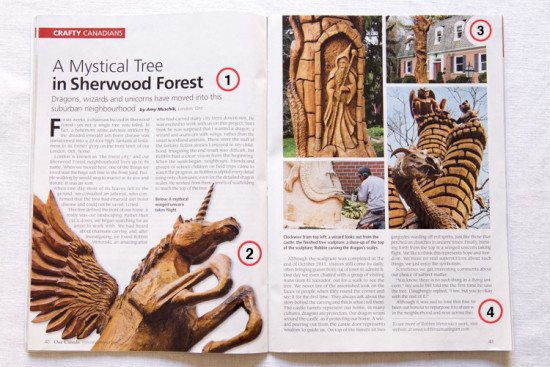 #1. She started local. Amy's first published story was about a tree in her front yard. Her neighborhood is known for its trees, so when this one started showing signs of demise, she and her husband hired an artist to carve it into art instead of chop it down.
Following the advice at the workshop, she pitched her story to a national print magazine and it was accepted. Your first story may, of course, be a bit farther away from home but it certainly doesn't require a flight or a fortune to get there. Start with interesting places all around you.
#2. Write about what you really enjoy. This story was easy for Amy because it was literally in her front yard. But think about what skills you have that you'd find easy to write about.
Do you have any hobbies you like, clubs you belong to, interesting people you know, sports you are involved in? Do you love to cook, knit or hike? What is your favorite local restaurant, museum, art gallery, festival? Chances are you're already sitting on the connections of a great story.
#3. Learn to take good photos. Today's editors want photos. Learn to compose a good clean shot and think about the kinds of shots you'll need to help tell your story. Amy says that taking photos will help you remember the details better, too.
#4. Network and use social media. Nearly every publication has a website and a social media presence. Networking both on and offline can lead to projects. One of the other stories Amy wrote came about as the result of an editor connecting with her on Twitter. You never know where connections and conversations will lead.
And here's one last piece of advice from Amy…
"Use each contact with an editor as an opportunity to pitch a new story idea. When I was invited to contribute an article with photos for a new project on a food site, I decided to "over deliver" and gave them two articles instead of one to see what happened. I also made a pitch for a couple of future ideas, too. They loved both of the stories I attached and they even asked for more. I've now been invited to write for them weekly. Yay!"
[Editor's Note: Learn more about how you can fund your travels and make an extra income with photography, travel writing, blogging, and more in our free online newsletter The Right Way to Travel.  Sign up here today and we'll send you a new report, Profit From Your Photos: A Quick-Start Guide, completely FREE.]