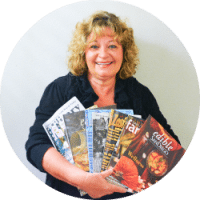 When I launched my travel writing career in 2014, I was elated to see my name in print for the first time. And while I love getting paid to write stories, the travel perks that come along with my new wanderlust life are quite impressive.
Those perks, adding up to thousands upon thousands of dollars, mean I can afford to travel a lot more. And those magnificent vacations I love so much no longer come out of my own pocket.
I learned that the magic formula for tapping into the best perks was having travel-writing assignments in-hand before a trip. These assignments from print and digital publications have been my golden ticket.
Individual businesses and tourism boards are more than willing to roll out the red carpet to writers who can produce an article or two about their destination. They understand the quid pro quo.
As a result, these are some of the incredible perks I've received:
Luxury accommodations
I admit it. I love, love, love luxury. And I love it even more when there's no bill slipped under my door at the end of a vacation.
So, when I've been able to stay in a luxury four-bedroom vacation home overlooking Mexico's Sea of Cortez; a five-star boutique hotel in Laguna Beach, California; or a vacation villa in the Virgin Islands with spectacular sunset views, I've been in my element.
Adventure activities
The second most expensive part of any vacation after lodging is the costly price tag of adventure activities. But these have always been an important part of trip itineraries.
This past year alone, I've soared over Southern California vineyards at sunrise in a hot-air balloon, parasailed over the Pacific waters of San Diego; zip-lined in Puerto Vallarta, and mountain-biked in Colorado.
Horseback riding through Arizona's Sonoran Desert was one fun and unexpected treat. Not to mention ocean kayaking through the fascinating caves of a national park, snorkeling on Hawaii's Big Island, and experiencing awe-inspiring sunset sails in Kauai.
And the best part is that these adventures cost me nothing out-of-pocket to enjoy.
Destination tours
Destination tours set the stage for the perfect orientation to an area. Whether it's a private tour, trolley with a guide, or a hop-on-hop-off city bus, it's the ideal way to get around the city and explore the locale.
Just this past summer, I was lucky to get a historic tour in the Colorado Rockies; a private walking tour in Venice with front-of-the-line privileges to its famous churches, museums, and gondolas; and a two-day narrated bus tour of Rome.
Food, wine, and libations
When you travel, you have to eat, right?
But there's a big difference in the dining experience when a tourist shows up at a restaurant versus chefs showcasing their very best in order to impress a travel writer who's there to cover their venue.
This is where those delectable five-course gourmet meals with wine pairings come in. And here's another little secret: Guaranteed, you'll get the best table in the house.
My husband, a photographer, and I have been seated at Frank Sinatra and Ava Gardner's table at a historic fine-dining restaurant in Palm Springs. We've had top romantic tables and the most stunning views in mountain, beach, and desert destinations.
And when wine or other drinks are included, restaurants will want to offer you their top-shelf libations.
Indeed, the perks are amazing. But, I also want to stress that the opportunity to travel more, see more, and experience more is something that never ends for a travel writer. It's the gift that keeps on giving.
[Editor's Note: Learn more about how you can fund your travels and make an extra income with photography, travel writing, blogging, and more in our free online newsletter The Right Way to Travel.  Sign up here today and we'll send you a new report, Five Fun Ways To Get Paid To Travel: A Quick-Start Guide, completely FREE.]