Freshly-pureed blackberry juice… organic potato and quinoa soup… giant fava beans… and soft cow cheese…
Christina Merchant here, coming to you on Day 1 of our Travel Writing and Spanish Immersion Expedition in Cotacachi, Ecuador.
Today we had lunch in the indigenous village of Chilcapamba, where we dined on fresh potatoes, cheeses, and vegetables… all organically grown by our hosts, right here in the village. The blackberry juice — like all of the fresh juices you find here in Ecuador — is out of this world.
For dessert, we indulged in sweet tree tomatoes in a light, cinnamon-spiced syrup. Even if you don't like tomatoes, you'll want to try this kind. Here's what they look like: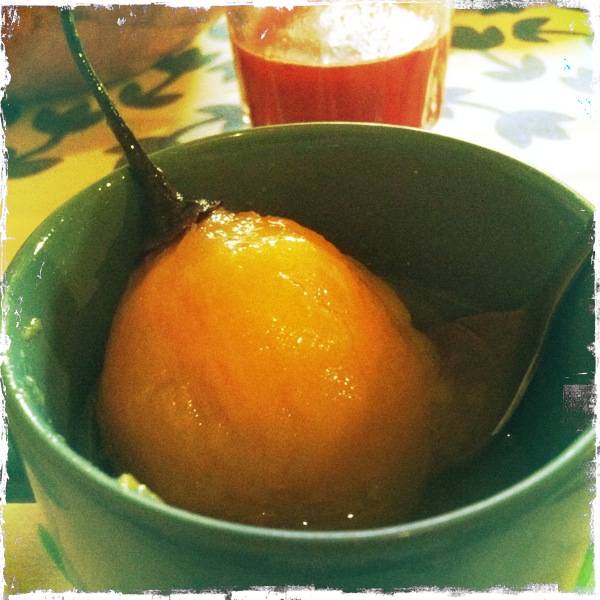 I'm here with Denver Post Travel Editor Kyle Wagner and 14 of your fellow readers… all of us excited to visit the Ecuadorian countryside as we try our hand at penning a few standout travel articles that we can sell when we get home.
For the next three days, I'll sneak you a few key travel writing tips from our workshop sessions with Kyle.
Starting with today's tip…
When you begin to write a travel article, Kyle says it's important to ask yourself, "Why did I invite the reader to this party?"
Think of your travel story as a party that you're inviting your friends to… and the readers are your friends. What's so great about the party? What's happening there? What's different about it, and why should they spend their time there?
Your answer is what you should use to lead your article.
It's important to hook your reader up front and make sure they want to keep on reading. The same thing that hooks your reader will hook your editor. And that's what gets your stories sold.
You only have a few precious seconds to grab your reader's attention. So Kyle gave us a few insider tips for making the first sentence of your article reach out and grab your reader right off the bat. Stay tuned for more on how to do that tomorrow, after we get back from the spa.
In the meantime, I'm going take a walk down "leather street" in search of the perfect pair of leather gloves. Kyle told me she found a great pair yesterday for $10! I love Ecuador!
Hasta Mañana,
[EDITOR'S NOTE: If you can write an e-mail to a friend about your travels, then you have what it takes to put together short, sweet travel articles and make an income from your trips. Plus, once you get published, you can start cashing in on all kinds of travel writer perks, from free meals to entrance into museums and events… even take entire vacations on someone else's dime. It's easy when you know the simple article formula to follow.
Learn more about opportunities to profit from your travels (and even from your own home) in our free online newsletter The Right Way to Travel.]