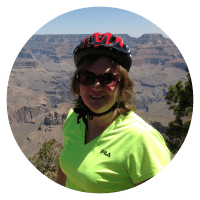 I'm now a published travel writer on 10 online travel sites. It's time for some reflection as I celebrate at my keyboard with a cup of tea.
If that doesn't sound like much of a celebration, it is… because I leave tomorrow for three back-to-back trips to Colorado, Canada, and Florida. 
One, an all-expense-paid media trip with two confirmed assignments; the second, a family vacation being enhanced by the local visitors bureau, who is setting me up with some local experiences; and the third, a respite to catch up on writing. 
Oh, by the way, there might be a few adventures in between the writing sessions. My life as a travel writer has been one big celebration of life.
Thanks to what I learned at the 2016 Ultimate Travel Writer's Workshop, I've been on three all-expense-paid group media trips, traveled out of the country twice, and been partially supported by local tourism bureaus five or six times. All in just one year. 
My pipeline of opportunities is huge, and I'm challenged each day to keep up with the writing. 
There's more good news. After learning how to query editors, establish an online presence, and develop a following, I now have editors contacting me for content, which frees up more time for traveling and writing. 
In the past year, I've received over $20,000 in travel perks. I equate that to having to earn $26,000 in taxable income in order to fund the same adventures. Even better than the financial rewards are the experiences themselves…
I've eaten Georgia Gulf shrimp, danced down Bourbon Street in New Orleans, frolicked through Monet's Garden in Giverny, France, laid flowers on Vincent Van Gogh's grave, visited the Louvre in Paris, ridden in Andy Griffith's squad car in Mt. Airy, North Carolina, hiked to beautiful waterfalls in the Hocking Hills of Ohio, and jammed with country musicians in Nashville. 
Most of these adventures weren't even on my bucket list. But forget the bucket list. You don't know what you're missing until you open yourself up to the opportunities travel writing creates.
The Ultimate Travel Writer's Workshop was definitely the spark that ignited my travel-writing career. When I go outside to get the mail, my neighbors comment, "Oh, you're home! Where are you off to next?" I always have a great answer! 
Do you want to be the envious or the envied?
[Editor's Note: Learn more about how you can fund your travels and make an extra income with photography, travel writing, blogging, and more in our free online newsletter The Right Way to Travel.  Sign up here today and we'll send you a new report, Five Fun Ways To Get Paid To Travel: A Quick-Start Guide, completely FREE.]