It doesn't matter, really, who tells you initially that you aren't good enough to become a travel writer or photographer, you're not worth it, or that you'll never be able to make your dreams come true, because you're stupid or inept. Eventually, it becomes your own voice that repeats this mantra and does the most damage.
In my world, it began with an ex. I'd met him when I was really young and stayed in the relationship for 20 years, 15 of them married. We had two children, both boys and they helped keep me somewhat centered, somewhat sane.
I'd always wanted to be a writer and a photographer. My mom and dad believed in me. But my husband would laugh and say, "Yeah, good luck with that."
After showing him a number of my poems and short stories and always eliciting the same response, my creative voice grew quiet. I still wrote. But I hid every scrap of paper in the bottom drawer of my nightstand.
Maybe he was right, maybe I wasn't good enough. Maybe I really was meant to be a nobody. My photography grew dark. Undeveloped rolls of film got tucked away as well.
Eventually, our marriage fell apart. I found myself in an entirely new place in life. Once the fog cleared and I could actually start to think things through, it was painful to see how little I'd thought of myself and lost my zest for life during my years with him.
But eventually, I dragged out my writing, polished up prose in the dark hours of the night and began quietly mailing to editors. Within weeks, I had checks to deposit, up to $450 for each piece!
I remember walking around the house, looking at my name as the author, showing my sons, who'd hug me tightly, saying "We knew you could do it!" 
My inner voice started to change then, too. I'd tell myself I COULD write, I COULD make my dreams come true, I COULD support the boys and keep the household running with my photography.
When my mom passed away, expressing her deep regret in not having traveled to Paris with my father, I changed yet again, promising both her and myself that I'd find a way to travel. I'd begin to live my life to the fullest.
So I attended the 2013 Ultimate Photography Workshop in Miami, as well as the Ultimate Travel Writing Workshop that same year in Boston. I was determined to learn as much as I possibly could.
Now, my photographs are of various places and many interests. I sell them on stock sites, as fine art, in restaurants and coffee shops. My writing's a wonderful outlet as well. Travel writing takes me to countries I'd only imagined I'd see just two short years ago.
Right this second, I'm on the balcony of a vacation rental in Fiji, looking out on a beach in the South Pacific, armed with writing and photography assignments willing to pay me to share what I see here. 
Change is hard — it sure is scary — but it's good! I'm grateful, every day, for taking a chance and putting myself out there.
[Editor's Note: Theresa St John was our 2014 success story of the year. You can watch her video and her parlay into travel writing, stock photography, fine art, and more, here: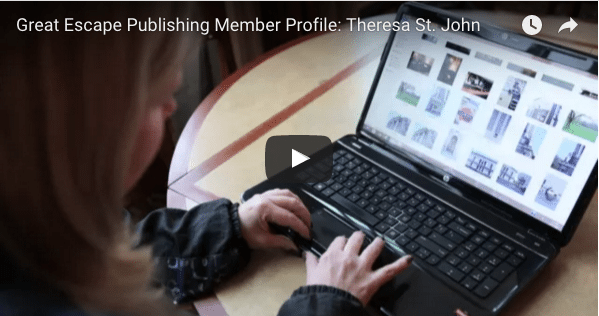 Then, go here to learn more about how you can fund your travels and make an extra income with photography, travel writing, blogging, and more in our free online newsletter The Right Way to Travel.  Sign up here today and we'll send you a new report, Profit From Your Photos: A Quick-Start Guide, completely FREE.]