Sure, you should do your best to get fit, stay healthy, and keep yourself out of debt. But what are all these New Year's resolutions for if you're not truly living?
Joshua Foer in his breakthrough book, Moonwalking With Einstein, suggests that time flies faster when you're older because you have fewer amazing experiences to make your weeks, months and years memorable.
Occasionally someone has a baby or a birthday worth celebrating. Occasionally you take a trip.
But the secret to living what feels like a longer, fuller life actually lies in creating more memorable experiences — trading in some of the day-in-day-out sameness for real, exciting, experiences.
Here's some of my past advice on what to do with your Saturdays.
Today, here's my suggestion for your New Year's Resolution: Live more.
Take more trips. Try more new things. Meet new people. And find yourself elated to be alive.
Not only are you happier and more productive when you return home from a vacation, but your life feels fuller and longer, too.
Take some time today to look into a trip you want to take this year. Let your mind wander down a little virtual touring. Take a trip through Google Images and see what piques your fancy.
To make your experience even better with cheaper airfares and hotels (and fewer tourists) use this shoulder season chart I created a few years ago: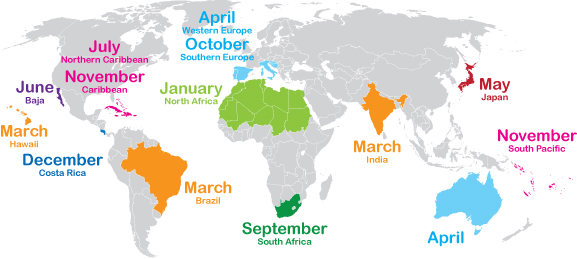 (We'll call February and August "planning months, " since neither has any significant shoulder seasons.)
January – North Africa. The Christmas travel crowds are gone and the weather is warm. We're going to photograph the great migration of two million wildebeest, elephant, zebra and more, here.
March – Brazil (post-Carnival), Hawaii, or India, between local holidays.
April – Western Europe. Rome, Barcelona, Paris, and London will still be cool and you'll have your chance of rain, for sure, but the crowds are thin and prices go way down. Also, Australia. April is early autumn in Australia and temperatures are dropping. You'll also get there before the crowds rise.
May – Japan. Hit Japan after the Cherry Blossom festivals are over for a break in prices.
June – Baja. Prices and temperatures are mild, between the Spring Break rush and the summer heat.
July – Northern Caribbean. (But avoid hurricane areas.)
September – South Africa. It's early spring in South Africa, and prices are low on game drives. You'll also find animals easier to spot since many trees still don't have their leaves.
October – Southern Europe. The weather has turned chilly up north, but around the Mediterranean, you'll usually still find warm temperatures… and good travel deals.
November – Caribbean and South Pacific. Christmas is high season in these warm destinations. Try to get your beach time in before the rush.
December – Costa Rica. The Rainy Season is subsiding, but the tourists haven't flocked in, yet.
If you're not sure when shoulder season falls for your destination of choice, try booking your trip for just before or just after high season.
If you'd like to travel to some of these places for free… or find ways to fund your adventures that are fun, like selling your travel photos, here are what I would consider our top programs to consider:

The Ultimate Money-Making Photography Workshop – This only happens once a year. It literally changes lives. And if you apply what you learn, it can easily pay for itself. We're already sold out of this year's event; however I'll be making a special announcement soon about how you can still get an in on this fabulous event.
Expeditions — Join us live, in-the-field, with a professional photographer or travel writer by your side to show you the ropes. We still have several seats left in our India Travel Writing Expedition.  Or you can add your name to our Workshop Alert List to stay updated on all upcoming expeditions.
Don't let 2018 fly by as fast as 2017 did. Make it memorable and you'll find it feels longer (and that you feel more alive experiencing it, too).
[Editor's Note: Learn more about how you can fund your travels and make an extra income with photography, travel writing, blogging, and more in our free online newsletter The Right Way to Travel.  Sign up here today and we'll send you a new report, Five Fun Ways To Get Paid To Travel: A Quick-Start Guide, completely FREE.]