Here's a question I don't ask you very often: Do you like to eat?
When I travel, I love to eat.
I didn't get to try the guinea pig in Ecuador, though I wanted to.
But I did get to eat at La Mirage where the settings were so elegant that they brought us a surprise appetizer from the chef inside a music box that played while we ate.
Imagine the travel story that would make. To me, food writing is the ultimate travel-and-pleasure combination.
Just imagine – when you write food articles while you travel, you can get paid to sample local delicacies… wander through vineyards and wineries… shop at farmers' markets… and dine extravagantly around the world.
If that sounds enticing…
Just wait till you hear what delectable treat we've whipped up for this summer!
I'll give you the full lo-down here in a second. But first, I want to fill you in on a little background about how this very cool (and highly unusual) opportunity came about.
The idea was hatched, actually, about six months ago when Jen Stevens (our resident travel writing expert) was chatting on the phone with Kyle Wagner, the travel editor at The Denver Post.
Kyle was a food critic for 15 years before she hopped over to the travel desk.
And Jen — a "pathologically adventuresome eater," as she puts it — had called Kyle to get her insights about ways to write better about food and dining… learn more about both… and create salable articles with a strong "food-focus."
You see, food is a hot trend these days. Slow food. Organic food. Locally grown food.
And food has always been an integral part of the travel experience.
I mean, let's face it: It doesn't matter what market you're writing for — backpackers, history buffs, upscale comfort-seekers — they've all got to eat.
And so it's rare that an editor doesn't want at least some "food" recommendation (even if it's just three quick restaurant tips in a sidebar).
Recently, though, food — really, the dining experience as a whole — has taken on a more important role in travel coverage everywhere… newspapers, city and regional magazines, online guides, in-flights publications…
In fact, the first piece your fellow reader Barbara Ash sold to an in-flight magazine (just days after our Breaking into In-flight Magazines Workshop) was about food: The origins of the Rueben Sandwich and where to find a good one in Omaha.
My point is: If you know a few simple secrets — what to look for, the questions to ask, and the tricks to writing well about food and dining (and most people don't)… you're going to have an instant leg up.
And that translates to better trips, better eating, and effortless article sales.
Jen was so excited when she got off the phone with Kyle, that she called me immediately and told me we HAD to get Kyle in front of our readers — in person — and have her hand over all the secrets she's got up her sleeve.
Because, as she put it: "They're fun. They're easy. They aren't hard to learn. And they work."
So since then I've been trying to arrange exactly that: A one-day workshop about food writing.
But let me just say that trying to find a single day in the calendar year when a travel editor with two kids and a travel writer with three are both available is next to impossible.
However, the stars have finally aligned.
It's soon. But if we don't do it now, I fear it's never going to happen.
Now, this workshop is not just for people who want to write exclusively about food — though we'll certainly talk about how you do that.
Really it's for anybody who's including any restaurant or dining recommendations in their articles. Anybody who's interested in integrating more about food into what they write. And that's you! Or, at least, it should be.
Writing about where and what to eat isn't hard. Not when you know the insider's secrets, anyway. And often the tricky part is just squeezing the right stuff in without changing your whole story around or making it feel disjointed.
Say, for instance, you've got a sidebar to fill with three dining suggestions – and you've only got space for two sentences per. Do you know the formula to follow? Get it right, and editors will love you, instantly.
That's the sort of thing Kyle and Jen are going to hand you on a silver platter.
Kyle has great tricks up her sleeve for writing about everything food-related. And if you're not a die-hard foodie, it doesn't matter.
We're not suggesting we can teach you to be a food critic in 8 hours. We can't.
But we will show you how to capitalize on food-related trends and use your new-found know-how to dine better… have more fun when you eat… and turn your dining habit into cash.
This could change the way you eat out the rest of this year… heck, the rest of your life, for that matter!
On June 21, we'll be at the Hotel Monaco in downtown Denver.
We actually picked it based on another food-related trend Jen had mentioned to me a few weeks ago… oenotourisme.
That's the term that's been coined for tourism centered around wine. (Oeno was the goddess of wine in ancient Greek Mythology. She had the ability to change anything into wine.)
Jen was talking about how "wine tourism" isn't new… but that the extent to which winegrowers are making their vineyards tourist destinations is. Rather than run a simple vineyard tour, many winegrowers are adding B&Bs and conference centers.
So I looked into that. And it's true.
We picked the Hotel Monaco because they have a conference room set up in their wine cellar in the basement… here's a photo: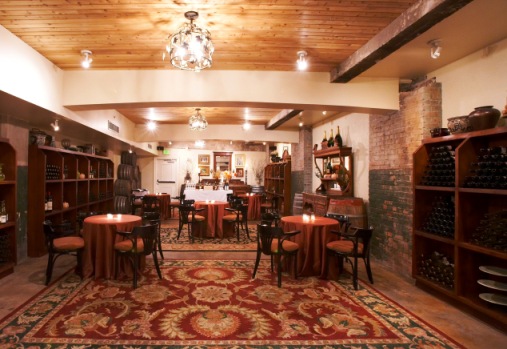 How cool is that?
I told Kyle about where we'd decided to have this thing and got an instant stamp of approval. She said we couldn't have made a better choice: The chef there is fabulous and the hotel itself is just wonderful.
Suffice it to say: I'm really excited about this event. And I can't wait to show you how you can easily and quickly capitalize on a trend that's gaining steam every year.
I hope you'll join me, Kyle, and Jen in Denver for a day this June.
What a fun way to bring focus – and flavor – to the latter half of your year. You can spend the summer and fall reviewing restaurants, sampling new foods, writing about your experiences… (and even taking pictures of what you eat).
I don't have a full schedule ready or any other details yet. But, as I said, I have gone ahead and confirmed the date and the location.
It's going to be a great event. And with Jen and Kyle on board, there's no way it won't be a blast. (If you heard Kyle speak at our Denver travel writing workshop a couple of years back, you know "lively" doesn't begin to describe her!)
Can't wait to see you there.
Lori
Lori Allen
Director, Great Escape Publishing
[Editor's Note: Learn more about opportunities to profit from your travels (and even from your own home) in our free online newsletter The Right Way to Travel.]