The details of how to write travel articles
Details, details, details. They always improve a story. So let's focus on the details of how to write travel articles… I recently went on a trip to Brussels, where in addition to trying as many Belgium beers as possible, I also enjoyed their deservedly famed moules-frites – mussels and fries. There are two classic ways to try moules. Either simmered à la marinière in a fragrant broth of white wine, parsley, shallot and butter, or in thick cream and garlic. The molluscs should be small, tender and arrive at your table in huge iron cauldrons. The frites are home-made, crispy, and you dip them in mayonnaise. On a winter's night, it's the most delicious seafood dinner on earth. At least it should be…. But imagine this. Say a reader visits Brussels on a travel writer's advice. He doesn't know she's the type of writer who only investigates the main guidebook sites and chocolate shops. The type who shudders at the idea of foreign food in a foreign language.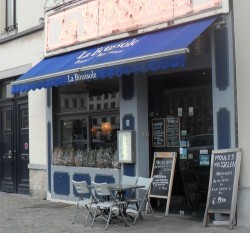 So he's not in La Boussole—a cozy brasserie I tried on Quai au Bois à Brûler. He won't know the clientele here is local…or that the waitress brings a free appetizer of spiced lentils…that the three individual types of bread are all delicious…or that more moules-frites than he can possibly manage costs €19/$21.50. This authentic brasserie where mussels get cooked to perfection is in the historic neighborhood of Sainte-Catherine. Still in Central Brussels, but off the hectic tourist beat, it's a bohemian quarter of little galleries and boutiques that maintains a working-class feel.  Centuries ago, it was the site of the inner-city harbor with its network of canals and waterways. Some of the skinny houses reminded me of Amsterdam. Although filled in over a century ago, these old quays contain the memory of the goods unloaded here. Opposite Quai au Briques (bricks), Quai au Bois a Bruler's name translates as Firewood Quay. (Tip: If possible, add a sense of place or history to restaurant recommendations.) But now back to castigating our idle writer. Because she only ate at her hotel and McDonald's, the reader doesn't know about La Boussole and Sainte-Catherine's other tempting fish restaurants. So the poor chap doesn't realize when she wrote "you must try the mussels from Brussels" she didn't actually try any. Nor that she only mentioned moules-frites because her guidebook told her that it's Belgium's national dish.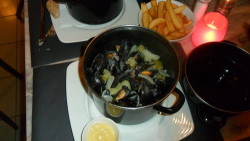 Yearning for those mussels she pretended to thrill about, he's now in an over-priced restaurant aimed at tour groups near the Grand-Place. Because he doesn't know better, he's paying €25.95/$29 to try and choke down some nasty, oversized mussels that lurked for weeks in a freezer. They're in a curry sauce. They take ages to chew. He thinks if this is the best food that Brussels offers, what can be the worst? So please don't be lazy. Whether it's a street stall or a top-class restaurant, tell us what you really ate. Make your own recommendations on where to go. And tell us what you paid. I hate it when a writer doesn't give actual prices. Merely saying that meals are 'good value' isn't good enough. What seems inexpensive to you might be half a week's pay to someone else. By the way, we returned to the Sainte-Catherine quarter for lunch. And L'Huitriere on Quai au Briques was just as good. €16.50/$18.65 for a 3-course lunch. Squid starter, crab salad as a mains. Tiramisu for pudding. Share on Facebook [Editor's Note: Learn more about opportunities to profit from your travels (and even from your own home) in our free online newsletter The Right Way to Travel.  Sign up today here and we'll send you a report, Get Paid to Travel as a Travel Writer, completely FREE.]