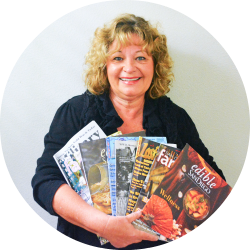 Educator Steven Anderson said "Alone we are smart. Together we are brilliant."
What does this have to do with travel writing, you wonder? Everything!
After attending the Ultimate Travel Writer's Workshop in 2014, I left with an on-fire, can-do attitude. I hit the deck running and thought I was pretty savvy when I landed some early successes and a few published stories. 
After the workshop, I interacted on the travel writers' Facebook page, and joined some local and online writing organizations. I was astonished to realize how much information is out there and how we can glean that information through social networking.
What I didn't know then, however, was how these writer community forums would become rocket fuel to my travel-writing success. My 200-plus published articles, numerous all-inclusive press trips, and thousands of dollars in travel perks would never have happened this quickly were it not for the benefits I received by interacting with a community of writers I call my "tribe."
One of these forums is the Travel Writer's Café, a program I pioneered with GEP providing new writers a way to interact with fellow writing colleagues, travel writing experts, and magazine editors. 
Every successful travel writer will tell you that ongoing interaction with a travel-writing community is absolutely crucial. And here's why… 
Support and encouragement
Seventeenth-century poet John Donne told us that "no man is an island." Working with a network of writers provides an immense amount of emotional support. You're not out there alone. 
Though travel writing is an exciting profession, it can bring with it some isolation, especially when you're first starting out. But when you network with a group of writers, you're able to share your achievements and yes, even your disappointments. 
You can be a sounding board and bounce ideas off one another. When a new situation arises that you've not handled before, chances are excellent someone in the community has "been there, done that" and can provide invaluable guidance. The group becomes your travel-writing family. 
Knowledge is power
One can't possibly know everything. But if each one of us knows something, we all know more. And we all benefit. 
When we interact with other writers—on a press trip, at a writer's conference or through online groups—our contacts and corresponding base of knowledge increases tenfold. And this leads to more opportunities.
I found out about my very first press trip through a travel-writing colleague. I applied for that trip and was invited to spend an incredible four days in St. Simon's Island, Georgia. 
I learned a good deal about the importance of social networking from an experienced travel writer on that trip. Another attendee recommended a travel-writing conference that proved invaluable to my writing career. 
Learn where to get published
We all know the reason we become travel writers is to see our name in print, right? We can pen the most incredible story in the world, but, if that story doesn't get to the right editor's hands, it remains lost in a dustbin.
When travel writers in a forum share information with one another about publications seeking freelance submissions, our knowledge of what's out there increases exponentially. We get inside tips on how to work with certain editors and the time it takes to get an article accepted for publication is cut in half.
There are many habits successful travel writers possess. But the one I believe is most effective is developing your "tribe"—that group of colleagues that will play a major role in your success as a travel writer.
[Editor's Note: Learn more about how you can fund your travels and make an extra income with photography, travel writing, blogging, and more in our free online newsletter The Right Way to Travel.  Sign up here today and we'll send you a new report, Five Fun Ways To Get Paid To Travel: A Quick-Start Guide, completely FREE.]