Looking eastward over the Atlantic, I watched grey dawn changing to the intense pinks and purples that precede the morning sunrise. To my left, a lone couple walked hand-in-hand along the water's edge. The world-famous "three mile pink-sand beach" stretched into the distance in both directions.
Beautiful as it is, that would be my only day on the famous Harbour Island, at the north end of Eleuthera in The Bahamas. .You see, Harbour Island—with its posh resorts, dazzling beaches, and immaculate, well-kept villages—is one of the most written-about places in The Bahamas. Anyone with a guidebook can learn all about it in a matter of minutes.
To find an audience for my work here, I knew I had to move on to the somewhat-forgotten main island of Eleuthera, a strip of land just two miles wide, stretching for over 100 miles through The Bahamas. So, I talked a friendly cab driver into lending me his car for the next two days (for $75) and headed south into what was one of most friendly, welcoming, and heartwarming experiences I've had while traveling.
Approaching the famous Glass Window Bridge, an old woman—surely close to 80—flagged me down and asked if I could give her a lift home from her early-morning housecleaning job. As we slowly cruised the narrow two-lane, Miss Thelia filled me in on the island's history and current affairs from her perspective, and why there could be no better place to live. As I dropped her at the door to her humble island home, she warned me that I couldn't miss the island's best breakfast; just ahead in the next town.
This led me to Pammy's, where native owner Pamela Moss served me up her specialty; a hearty breakfast of corned beef in BBQ sauce, with peppers, onions, and a side of grits. Located in an old blue-and-white building shared with a bait shop, the place was unpretentious (to put it politely), but it held a wealth of local color about the surrounding town of Governor's Harbour, happily shared by the friendly local crowd.
Leaving Pammy's, I took advantage of the morning light and clear skies to take some photos of the town's narrow sandy streetsI took an hour to stroll around the calm, blue waters of the harbor, alternately enjoying its shady trees and brilliant white sands. You can take a look at the harbor, here: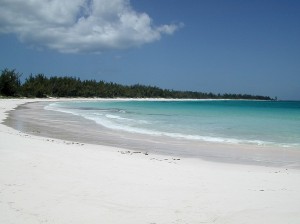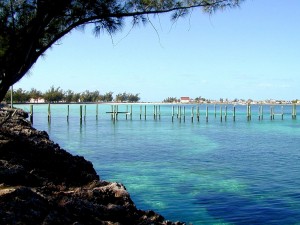 Later that afternoon, I pulled into Tarpum Bay to try the snorkeling in the clear sheltered waters. As I was relaxing on a bulkhead afterwards, two young boys politely asked to use my mask; they'd never tried one before. They spent the next half-hour diving and laughing, excited by a view of the undersea world that they'd never seen as they chased the plentiful starfish, crabs, and conchs.
I find that if you really want to know a place, you have to talk to people. And from the Jamaican maid in my hotel I learned that at a nearby café, you could find a typical Jamaican dish called mutton curry. She assured me that this particular recipe was known throughout the island and reputed to be the best curry outside of Jamaica. She took an envelope from the drawer, and drew me a map.
As a middle-aged white guy, I can't say that I blended seamlessly with the young, dreadlocked Jamaican and Bahamian clientele that evening. But everyone was welcoming, happy to share their view of life on the island, and full of questions about what my impressions were so far. And, the locally-famous curry was indeed spicy and mouthwatering, and went well with a couple of icy Kalik "extra-strength" beers.
Simply by taking a few minutes to chat with the maid in my hotel, I felt that I'd gotten a far better chance to know Tarpum Bay and its people.
My last stop on Eleuthera was in the small town of Rock Sound, a quiet, peaceful village snuggled between Rock Sound Harbour on the west and the famous Ocean Hole saltwater lake on the east.  The town is at least two centuries old and was once famous for looters who lured ships onto the rocks using false beacons in order to snatch their cargo.
In the end, I was able to create several articles based on my Eleuthera experience. One was a comprehensive report to a magazine who focused on island living and island properties. Another piece was on island escapes. And another was an article on The Bahamas as a financial center and the changes taking place in the world of offshore banking.
My visit to Eleuthera was the trip of a lifetime. All of my costs of the visit were covered, and I received a few nice checks from the respective publishers. More importantly, I'll always treasure the fond memories of the smiling people, my warm welcome, and the great food. If there was ever an assignment that showed off the perks of life as a freelance travel writer, this was it.
[Editor's Note: Learn more about opportunities to profit from your travels (and even from your own home) in our free online newsletter The Right Way to Travel.]