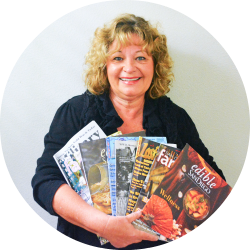 We all want to hit the deck running with visions of instant success in getting our stories published. When I started my travel writing career in 2014, I was the same. I experienced the frustration of a slow start, too – and I know how a slow start can discourage new writers, causing some to even give up. 
But, never fear. If you persevere, you will succeed… thanks to a phenomenon I call the "snowball effect."  
Through it, I found ways to get past my slow start and moved on to a successful writing career with over 200 published articles. Here are my tried-and-tested tactics:
1. Research new publications
By far, this has been the most influential part of my travel-writing success story. Early on, I set aside one day a week to research new publications. I did this through internet searches, visiting my local bookstore, and even finding local publications at the car wash or grocery store. I set up a publication database divided into genres. I then included information as to whether the magazine paid, the amount, if it was in-print or online, if the guidelines specified to query or send a complete article, and, of course, the editor's name and email address.
While initially time-consuming, this process has been the key of my travel-writing success. I know the publications that cover architecture, history, specialized travel to Europe or the islands, and even in-flight magazines. And I add to the database almost daily when I come across a new publication.
2. Fill your pipeline
If you write a story or a query, then send it to one publication, cross your fingers and hope for the best, you may get lucky and get a quick response from that editor. But chances are greater it's not going to happen this way.  To achieve real travel-writing success, you must "fill the pipeline."
Once you've established yourself as a writer, those paychecks will definitely come. In the very beginning of my travel writing career, I sent my stories to both paid and unpaid publications to get my first few bylines. That helped build my portfolio. Before some well-paying publications will accept your work, they might ask for links to your published articles to see your style of writing. With a few bylines under your belt, you can now showcase your work.
3. Keep the ideas flowing 
Another tactic I found helpful was that if I found a great story to tell, I'd go ahead and write it.  Even if it meant I'd have to tweak it a bit once I found the right publication, it was worth not losing that story in my head.
4. Diversify as much as possible
There are two schools of thought on writing with a niche. Some writers like to specialize in food or wine or over-50 or luxury travel. My writing covers a gamut of different genres: history, military, inspirational, food and wine, coffee, sustainable living, and of course, travel – to anywhere.
Being diversified has worked extremely well for me, allowing me to open new doors, thereby increasing the number of articles I've had published. 
Using these tactics, my articles and queries were accepted faster than ever, and new opportunities flourished. I no longer had to keep nervously checking my email, fingers crossed, hoping someone would accept my story. 
One of my favorite quotes by an unknown author is "Don't call it a dream. Call it a plan." With some good tactical planning, getting those bylines can happen a lot faster.
[Editor's Note: Learn more about how you can fund your travels and make an extra income with photography, travel writing, blogging, and more in our free online newsletter The Right Way to Travel.  Sign up here today and we'll send you a new report, Five Fun Ways To Get Paid To Travel: A Quick-Start Guide, completely FREE.]