Through an arch covered in fragrant orchids… stepping barefoot to the soothing tune of chanting, we shuffled into the Sikh temple where bearded men in turbans and women in colorful veils gathered to pray and cook. 
Yes… cook!
Bonnie, here, coming to you once again after our Travel Writing Expedition in India with full-time travel writer Margot Bigg.
To a Westerner, a large man with a turban, a beard, and a dagger is an unusual sight that might inspire fear. But there is nothing to fear here. Sikhs base their lives on love. And they express that love by feeding people.
Anyone — rich, poor, Hindu, Buddhist, Muslim, Christian… Indian or foreign… anyone from any walk of life is invited to sit and eat together at the Sikh Temple. And anyone is welcome to help in the kitchen, too.
As a travel writer, it's your duty to explore places like this. Get off the beaten path. Make connections. And try new things. One way to do that is to find a local who can take you into the places that not all tourists get to see.
In your hometown, that local might be you. Think: What connections do I have? What stories could I tell? Think about how you can scratch beneath the surface for a strong story angle.
Still barefoot in the temple kitchen, we were met with grins from the Sikh men and women hard at work stirring huge vats of food, flipping flatbreads on the griddle, and rolling dough. One man handed each of us a fresh hot samosa — dough filled with a warm gravy, sort of like an Indian Hot Pocket.
Inside the kitchen: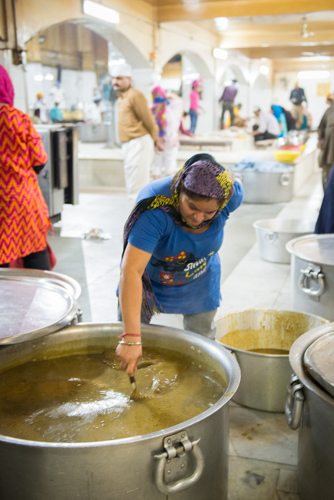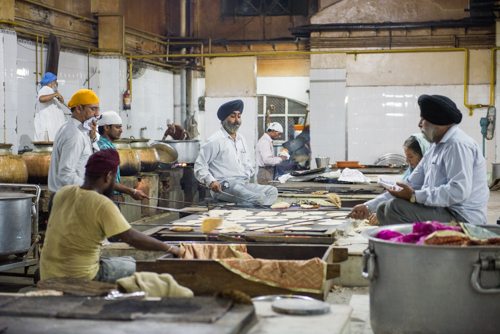 Outside the temple at night: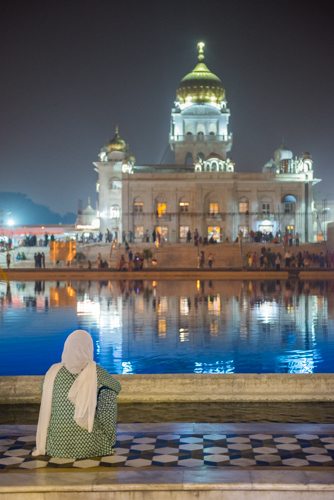 As we walked through and took pictures, they invited a few of us to roll dough with them. Here's Dawn, hard at work: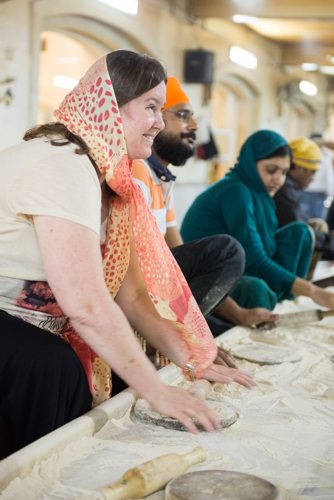 If you ever visit Delhi, spend an hour or two with the Sikhs. Seeing the way they give food and love to anyone and everyone will do wonders for your worldview… and your stomach.
And no matter where you go — even if it's simply stepping down the street of your hometown — look for the unique places where you can make genuine connections and find interesting stories to tell.
[Editor's Note: Learn more about how you can fund your travels and make an extra income with photography, travel writing, blogging, and more in our free online newsletter The Right Way to Travel.  Sign up here today and we'll send you a new report, Profit From Your Photos: A Quick-Start Guide, completely FREE.]