In the year of the Olympics, it's not just our athletes that can produce gold. At Château Saint-Martin & Spa — set among the pine-laden hills of Vence, on the Côte d'Azur between Nice and Antibes — all that glitters is also gold, or even platinum, for your body.
 
This is no ordinary spa, and neither is the experience.
 
Just a 20-minute drive from Nice, Vence is a historic walled village famous for its spring water, modern art, and the works of Marc Chagall and Henri Matisse, which you'll find in the chapels.
 
Situated in a fully-restored castle, the Château Saint-Martin & Spa is set on 30 acres amid the 12th-century ruins of a Knights Templar fortress. Surrounded by stunning views of the Mediterranean from Nice to Cannes, and the Southern French-Italian Alps, the position and outlook are breathtaking even before you get to the spa.
The retreat setting of the Château offers traditional French charm at its best—completely different to anything you'll find on the coast. The crisp mountain air, unspoiled and beautifully-tended grounds welcome you as you walk through the cloisters to enter the chic spa.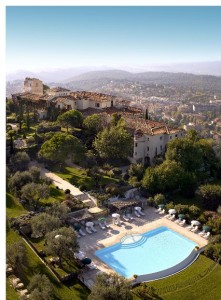 Once inside, you won't be disappointed either. This 400-square-meter haven of peace and healing offers spa experiences like nowhere else. Here you can discover a world made of luxury and refinement. Unbelievable as it may seem, its unique signature treatments use real gold, platinum, and also caviar.
The most popular is the 80-minute Pure Gold Radiance Facial. Using products infused with precious Pure Gold serum, it imparts the subtlest 24-carat incandescent glow, leaving your skin looking and feeling radiant, luscious, and vibrantly alive. If that's not enough, there's the 80-minute Caviar Firming Facial or Caviar Body Treatment. Both these luxurious treatments use unique sea proteins that will instantly lift, firm, and improve elasticity while illuminating your skin. Or there's the Platinum Rare Facial that bridges science and sensuousness. You'll be pampered head-to-toe by two therapists using the high performance Platinum Collection. After an hour and a half, you'll feel absolutely revitalized and renewed with the skin that you'd always dreamed of; balanced, hydrated, youthful, and bright, with the pure incandescence of platinum.
For even more luxury, you can enjoy the spa's totally indulgent three-hour Swiss Bliss Treatment—a total immersion of special combination massages and a facial that cocoons every part of your body in caviar bliss.
Couples and male guests haven't been forgotten either. For couples, there's a special duo cabin that has a private Sweet Spa Crystal (an entertaining and private steam shower), and there's a special Spa menu for the discerning man.
Of course, you'll find all the normal spa treatments on offer, too — including wraps, body scrubs, yoga lessons, body and energy treatments, along with a steam shower, sauna, experience shower, indoor and outdoor relaxation areas, a beauty room for manicure, pedicure, make-up, and hairdressing. Any meals and drinks on offer are overseen by the two-Michelin-star chef, Yannick Franques, and produced with ingredients grown in the hotel's own garden.
It's easy to see why Château Saint-Martin & Spa was one of the winners of Trip Advisor's Travellers' Choice Awards 2012—it truly is heaven on earth.
When planning your next spa visit, there's no denying that Château Saint-Martin & Spa is an exquisitely special place, where you'll truly experience the exceptional and come out the glowing five-star gold, or platinum winner.
Château Saint-Martin & Spa, 2490 ave des Templiers, Vence, 04.93.58.02.02. Treatments from 130 to 360 euro.
[Editor's Note: Learn more about opportunities to profit from your travels (and even from your own home) in our free online newsletter The Right Way to Travel.]