"I need a writer to do a story about a vacation resort, plus photos — and quickly," said the desperate editor over the phone. His eastern Washington travel and lifestyle magazine was going to press in five days and he needed a local travel writer to cover Roche Harbor Resort for the annual wedding guide issue.
Two days later my wife Linda and I were on the ferry to beautiful San Juan Island in Washington's Puget Sound, chugging our way to the resort. Linda had taken the Great Escape Publishing course Turn Your Pictures into Cash, and I had been through the Great Escape Publishing Ultimate Travel Writer's Workshop the previous year, so we were ready to roll.
At the resort, I did my interviews and Linda zipped around taking photographs of the wedding chapel, the restaurants, the historic hotel and old lime kilns, vacation houses, and the marina. We were back on the ferry that evening, with me writing furiously and Linda editing her photos, and the story went out the next day.
Two months later the six-page story was published, complete with 14 color photographs. We were paid $500 for the story and photos. It was a hectic weekend, but we quickly realized that our new venture as a travel writing/photography duo could work out. Little did we know the world that was about to open up!
That trip marked the beginning of dozens of press trips and FAM (familiarization) trips we've since taken together around the Pacific Northwest, the U.S.A., New Zealand, Singapore, and Bali, all on assignment for magazines.
We've stayed at luxury hotels, lodges, resorts, and spas, and covered an interesting variety of places from Tombstone and Bisbee in southern Arizona to the Oregon Coast, Idaho, and Sacramento. We've visited museums, ghost towns, and a plethora of tourist attractions, seen some gorgeous scenery, and had some memorable meals, all on the local tourist agency's dime.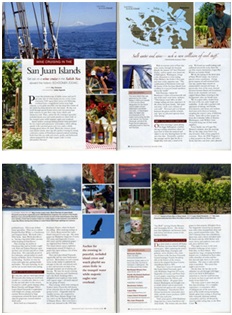 One of the most memorable trips we did together was a four-day wine cruise on a 126-foot schooner in the Salish Sea, on assignment for a regional wine magazine. (Article pictured at right.)
We sailed deep blue waters, stopping to visit island vineyards and taste their delicious wines. We dined on freshly caught gourmet seafood every night and anchored in sheltered coves, waking up to eagles gliding overhead. Bliss!
Nowadays we seldom go anywhere without assignments and we save thousands of dollars by doing this — and Linda's photography is always part of the package. When I'm making the travel arrangements with the tourist agencies at our destinations, they don't blink an eye when I tell them that Linda will be accompanying me as the travel photographer.
Our combined stories and photography have been published in over 25 magazines including Northwest Travel, Aviation History, Beer & Brewer, Blue Water Sailing, Columbia Gorge, Gorge Guide, 48 Degrees North, Lost Treasure, Popular Communications, Spaceflight, Washington Tasting Room, Garden Answers, and many others.
Sometimes we're paid extra for the photographs. Last January Linda earned more from her photographs than I did writing eight short travel articles about towns in the Columbia River Gorge for a guide magazine.
Linda lands a few perks on her own, too. She recently did a nine-day tour of the Oregon Coast with two photography friends. She arranged to give each hotel and resort a gallery of updated, high res images for its marketing department in exchange for complimentary accommodations.
Linda's taken some remarkable travel shots including great action photos,people shots, and sweeping panoramas. Traveling with my photographer wife also enables me to focus on my story, rather than being distracted by taking photographs.
[Editor's Note: Learn more about opportunities to profit from your travels (and even from your own home) in our free online newsletter The Right Way to Travel.]