Ever wonder why travel writers are able to take advantage of free trips, meals, accommodation?
I'll let you in on the secret. Hotels … tour organizers … cruise lines … airlines … even local governments are willing to spend big bucks on travel writers in hopes that they'll have a positive experience and write about it favorably in a magazine, newspaper, or newsletter.
The more articles are written about a place, the rationale goes, the more tourists will go there. More tourists mean more money … simple as that.
Let me share a story with you about one of my travel-writer friends got the best seat in the house one night, for free… and how you can do the same thing, too.
My friend was in Spain and found herself at the door of a small, very well-respected venue for flamenco. It's in the basement of a renovated 19th-century mansion. It's not one of the tourist traps where travel agents book bus loads of foreigners for "traditional dinner and a show."
This is a place where the locals go. Everyone was dressed to the nines. And if you know Spain at all, you know we're talking very elegant and classy.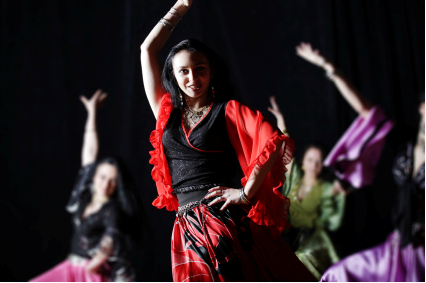 The evening my friend was there, it was packed.  There was a line out the door. She stood in it. But she figured she'd be lucky if she got a seat, given how small the space was — and how many people were ahead of her. (And how glamorous they  all looked!)
Once she got inside and down the stairs, she could see that except for one table up front near the stage, the only other available seats were at a handful of tables in a back corner. She figured she could still "soak up the atmosphere" from there — but that she really wouldn't see much.  Still… she wanted to stay…
Just one gentleman stood in line in front of my friend at the bottom of the steps. He was pressing cash into the maitre d's hand. Or trying to, anyway. The maitre d' was having none of it. He just kept saying, "No, I'm sorry sir, but I cannot seat you up there…"
When it was my friend's turn to ask for a seat, she quickly explained who she was… and the maitre d' smiled broadly, motioning for her to follow him…
He escorted her right to that table in the front. Right next to the stage. The people behind her in line were clearly wondering who she was…
So is my friend some well-known celebrity? Nope. Is she one of the super-wealthy elite? Not by a long shot. Truth be told: She's a retired elementary school principal on a couple weeks' holiday in Spain with a girlfriend. (She got both of them in that night… )
And she and her friend spent the next couple hours enjoying drinks and the best seats in the house for a world-class flamenco show where the people in line behind her were turned away.
So what's her secret?She's a travel writer…and the maitre d' was thrilled at the prospect of her possibly writing about his establishment in an upcoming article.
This kind of thing happens all the time to travel writers. And with the secrets you'll find in The Ultimate Travel Writer's Program, it can happen to you, too.
There are a ton of spas, hotels, resorts, restaurants, cruise-ship companies, tour operators, and more who would love to have a writer visit. It's like free publicity, after all…
And with The Ultimate Travel Writer's Program, you'll discover how to find these kinds of opportunities — and start to take advantage of them, fast.
These are the secret tactics that Steenie Harvey uses to get doors opened all around the world.
And you'll have them handed to you on a silver platter — when you take advantage of an exclusive, limited-time offer available right now.
Want to make it happen?
I'll see you at the table in the front… The Ultimate Travel Writer's Program.
[Editor's Note: Learn more about opportunities to profit from your travels (and even from your own home) in our free online newsletter The Right Way to Travel.]