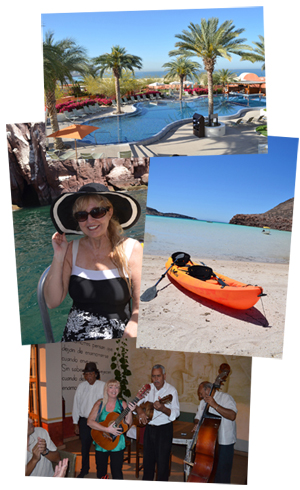 I'm writing this onboard a flight to Ensenada, Mexico, where I will spend four glorious days in a luxury oceanfront villa, sample delectable food, beachcomb, get a massage/spa treatment, shop, talk to expats, and of course continue my search for the world's best margarita.
The best part? Those four days won't cost me anything. (Well, I might have to pay for whatever I buy while shopping on the oceanfront malecon…)
A couple of years ago I realized I needed to come up with a plan to fund my addiction — my insatiable wanderlust. I'd always loved writing to friends and family about my escapades, so why not tap into that as a way to pay for my trips?
I found some pretty good tips and immediately started writing. I even got a few stories published online. It was pretty exciting to see my own byline!
Then I really got a kick-start when I attended Great Escape Publishing's Ultimate Travel Writer's Workshop, where I found guidance from a variety of people in the travel industry, from other successful writers who generously shared their tips, and from editors who told us exactly what they look for.
But what intrigued me the most was what they referred to as "FAM" trips. FAM stands for "familiarization" and is also sometimes called a press trip. These types of trips are generally initiated by a tourism bureau — usually through their public relations firm — seeking promotion for their destination.
Many FAM trips pay for everything. Flights, first-class luxury hotels, spa treatments, meals, excursions, etc. In return, they are hopeful that you will write a favorable article.
Last spring, I came across a FAM trip to La Paz, Mexico, that really intrigued me. It was a chance to visit beaches as beautiful as the Caribbean, stay in an oceanfront luxury hotel, eat chocolate clams, and snorkel with sea lions. Yes, please!
I thought back to the workshop, which encouraged us to always try. Whether it's submitting articles or trying to obtain trips or other perks, if it doesn't work the first time, don't take it personally or get discouraged. Just keep trying.
So, I applied for that La Paz trip. I wrote a very enthusiastic plea with links to the articles that I'd already gotten published. I also sent a link to a travel website I'd created as another way to establish credibility.
Lo and behold, I was contacted by the La Paz press agent saying they loved my writing style, but wanted a bit more information about where I could get published. I supplied them with as much as I could, and also took the opportunity to give them some additional reasons why I was the best-suited person for this trip.
A week later, he got back to me… and I was in!
That FAM trip opened my eyes to a whole new approach to travel writing — one that is fully paid. I had a spectacular time in La Paz and even got to sing with a Mexican mariachi band!
After returning from the trip, I had a ton of material and many different angles to write about. I had four articles published — including my first print article, published in the November issue of International Living Magazine.
So not only did I receive a fully-paid first-class excursion to La Paz, but I was paid for the articles I wrote when I returned. If there is a better way to make a living, I haven't run across it yet.
Since La Paz, I've been on a mission to explore the rest of Baja — Rosarito, Antonio del Mar, Ensenada, and San Felipe. All with the assistance of local tourism boards. And in 2013, I plan to go to Loreto, Todos Santos, and Los Cabos.
Here are my top five tips to get you started down the same path:
Be persistent. Don't give up. Keep writing and keep sending your work or ideas to editors…
Be patient. Don't take rejection personally. Editors get a lot of queries. Eventually your name will become familiar or your idea (in the subject line) will intrigue them…
Get published. Get articles into online media and local venues, even if they are not paid. Having a published byline and clips to send is one of the best ways to convince an editor that you are a serious travel writer…
Be public. Consider creating a blog or website where editors can go to see your work and travel photos and see what you sound like…
Be proud. When you get something published, promote it on Facebook and other social media.
People often tell me I have a dream job. I have to agree. And you can, too.
[Editor's Note: Learn more about opportunities to profit from your travels (and even from your own home) in our free online newsletter The Right Way to Travel.]