The first thing you did this morning… the number of times you say thank you today… the way you greet the next person who holds a door for you …
Almost every choice you make today affects how your day will turn out.  Your week.  Your month.
I often say: If your life is a book, why did you write this chapter this way?
Today, I'm asking myself this same question.
I get so busy sometimes I forget that I'm in charge.  I go on auto-pilot and push through the day.  But then one day bleeds into the next… and pretty soon the week has flown by, then the month, and, inevitably, a full year.
One thing you can do is fire yourself.  Fire the old you and imagine hiring someone smarter and more exciting to take your place.  What would someone smarter, faster, better do with your day?  Turn around and walk back in as that person.
It's a crazy mind-trick but it works.
If you have photos you've never sold, go sell them.
If you have a travel story you've never written, start writing.
The new, smarter, faster, more exciting version of you is already good at these things.  How do I know?  Because good is good enough.
Remember the success circle: Decision, information, courage, action?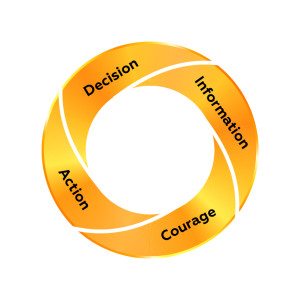 It's these things that create the Steve Jobs, Bill Gates, Oprah Winfreys and Steven Spielbergs.
Not talent.  Talent alone is nothing.  
And the really great thing about travel writing and photography is that there's a long road of sales on your way to the top.
Sell your practice shots as you work your way up to pro.  Sell your travel stories following simple formulas before branching out to create your own style.
You'll have so much fun doing it.
We're going to talk more about this idea this week, and I'll send you stories from some of our members who are having a blast on their way to pro.
One thing's for certain – if you don't finish writing this chapter, someone else – your boss, your kids, your neighbor, your spouse — will write it for you.  
Maybe that's what you want.  But I bet this new version of you that you just hired could write it better. 
[Editor's Note: Learn more about how you can fund your travels and make an extra income with photography, travel writing, blogging, and more in our free online newsletter The Right Way to Travel.  Sign up here today and we'll send you a new report, Profit From Your Photos: A Quick-Start Guide, completely FREE.]