The life of a travel writer can
For example, I've encountered a giant spider in a jungle cabana… broken a toe climbing over the mouth of a 300 million-year-old cave… even caused a cow stampede — all of which I'll take over the boredom and paper cuts of an office job, any day.
But my recent trip to Norway brought a most unusual hazard…
Roros, Norway — a former copper mining town that is now a UNESCO World Heritage Site — is home to an annual fair called Rorosmartnan. Since 1854, after a royal proclamation by the King of Norway, traders have come from all over Norway and Sweden by horse-drawn sleighs to the Roros Fair.
Even today, some folks travel as long as eleven days across frozen lakes and through snow-covered forests to arrive in time for opening day.
Strolling the snow-covered streets while the horse-drawn sleighs arrive, surrounded by 17th and 18th century wooden houses, is a bit like walking through a medieval postcard.
I met traders arriving by horse and sleigh, listened to traditional folk music, watched centuries-old dances, and sampled traditional Norwegian delicacies — including reindeer. Maybe that's where my trouble began.
On my last afternoon, my host walked with me to a frozen lake just outside the town center. There, in the midst of this country winter wonderland, I spotted my first reindeer walking a path around the frozen lake, pulling a sleigh full of excited children.
It was late afternoon and the reindeer really just wanted to take a nap — they tend to be a bit lazy. But I had been promised the chance to drive a reindeer sled.
My host grew up in Norway and was right at home with the animals. She hopped onto the back section of the little wooden sled and waited for me to sit at the front to drive. I stepped in between the wooden bars that attached the sled to the animal.
Apparently, Blitzen was over the whole "let them drive me" scene and he wasn't waiting any longer for me to get seated. When I stepped in front of the sled he bolted and I went flying backwards off the sled and into a blanket of snow. The poor woman in charge was horrified as she tried to calm the beast down. My host tried desperately to stop laughing so that she could check on my condition. I was laughing, too, in spite of a sore rear end.
I scrambled back to my feet and brushed the snow off my jeans — and that's when I heard the noise behind me. It seems Blitzen's pal Donner had been watching the incident and was completely amused. His mouth was open in a big reindeer smile — he was laughing at me. Seriously.
Ever since, Weird Al's "Grandma Got Run Over by a Reindeer" song has taken on a new meaning in my family. I'm sure my grandchildren will be singing it for the holidays.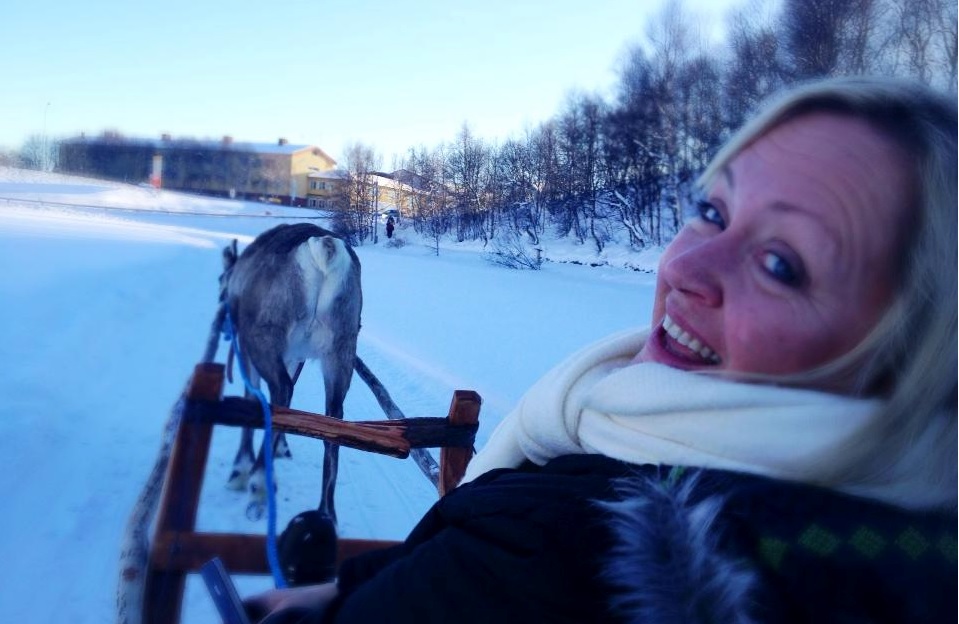 In the end, though, I get the last laugh. International Living agreed to publish two travel pieces from my trip and an online magazine is picking up another two. That's four published travel articles from one trip.
I love adding new publications to my resume! One press trip, four articles, and a lot of laughing… sure beats the paper cut boredom of a desk job.
[Editor's Note: Learn more about opportunities to profit from your travels (and even from your own home) in our free online newsletter The Right Way to Travel.]