A select group of people take trips to Paris and call it work… they eat a delicious meal at a 5-star restaurant and call it research… they compare wines and call it critical analysis…
Those people are travel writers.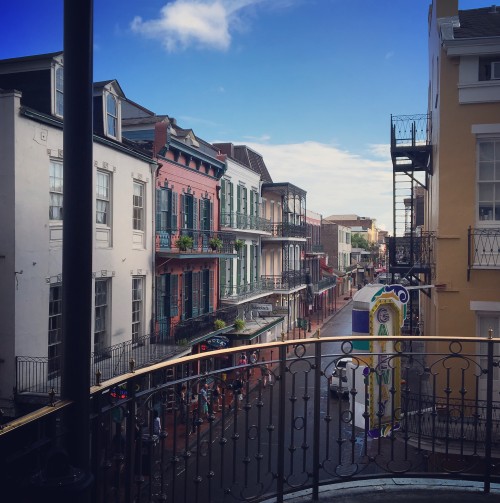 And a small, hot-shot group of them are here on Day One of the Ultimate Travel Writer's Workshop in New Orleans, Louisiana, showing a room full of eager folks exactly how it's done.
I've been hosting these workshops for more than 13 years, and they keep getting better. 
Every year, we hear from a greater number of past attendees who share with us their successes… I always invite a few of them back to tell us about how—with NO writing experience to begin with—they turned the secrets they learned at this workshop into complimentary travel and stories published in magazines, newspapers, and online. 
One told us her first free night's stay as a travel writer was at a bed and breakfast just three miles from her home.  As a local, she had no reason to sleep there. But as a travel writer, she had an excuse to explore it and, she said, the experience was amazing.
Mary Charlebois, another past workshop participant, said that—with her travel writer "hat" on—she wandered into her town's local tattoo museum. (She wouldn't have done it otherwise, she said, as tattoos aren't really her thing.)
But as a travel writer, she was intrigued and really surprised at how interesting it was. She made new friends and sold an article about the museum.
This workshop is designed to be incredibly practical. Becoming a travel writer might feel like a pie-in-the-sky idea… but, in fact, it's relatively easy to break in when you follow the simple formula our pros are revealing here.
Here's my favorite tip of the day:
Right there in your hometown, go out in search of something new. The classic advice you always hear dished out to new writers is "write what you know." 
But Jen Stevens, architect of our workshop, made the point: We're all lifelong learners. Be curious. Explore something that intrigues you but which you know nothing about. Chances are, if you find it interesting—others will too. 
Wander into places you've never gone before. Ask lots of questions. Check out your own town with fresh eyes. Not only will you find stories to write and sell… but you'll begin to see where you live in a new, and richer light. 
You don't have to travel far to get your start as a published writer. But with a few by-lines under your belt, you can begin to go farther afield—and get paid to do it. 
Noreen Kompanik and Theresa St. John are in the house as well, explaining exactly what they did to land 140+ bylines and dozens of free trips as part-time travel writers.
And I'll be reporting from the back of the room over the next few days, sharing some more tidbits about the best ways to turn your love of travel into paid-for vacations and see your name in print.
Catch up with the highlights from Day 2 here.
[Editor's Note: Learn more about how you can fund your travels and make an extra income with photography, travel writing, blogging, and more in our free online newsletter The Right Way to Travel.  Sign up here today and we'll send you a new report, Five Fun Ways To Get Paid To Travel: A Quick-Start Guide, completely FREE.]