That's Shanghai Magazine is a monthly English-language magazine for Anglophone expats living in Shanghai. Most of its pages are filled with short blurbs covering just about every aspect of daily life as a Westerner living in China.
Some of the topics covered in the October 2008 issue include fashion and style, celebrity rumors, profiles of new high-tech gadgets, art, TV, film, theater, music and book reviews, events of interest to expats in China (like surf lessons), reviews of hip new bars and restaurants, articles from food experts, recipes, articles related to health, education, business, sports, and more.
To write for That's Shanghai it helps if you live or travel regularly in China… though, several of the articles in the travel department seem to be written by freelancers.
If you want to submit a travel piece to That's Shanghai about a destination outside China, you'd do best to "localize" your piece by including details about getting there from Shanghai.
You won't find samples of their back issues online — their website is made up of mostly short web exclusive pieces.
But I can tell you that most of the travel stories in the print edition are around 800 words in length and include four additional sections at the bottom that detail how to get there, where to stay, when to go, and further resources. You'll find a sample at the bottom of this page.
Each article in the October travel section includes pictures and travel specifics about getting to the destination from Shanghai. You'll want to do the same.
If you have a story you'd like to pitch, you can send a query with your article idea and links to any clips, to editor@urbanatomy.com.
[EDITOR'S NOTE: Most major international cities in the world have English-language publications that you can write for. And you don't have to live abroad or even travel to get started. Just think of any subject that you know well and consider writing about it… like business, health, pets, entertainment, books… the possibilities are endless.]
Example pages from That's Shanghai Magazine (notice the sidebar information that you'll want to include in your article, too):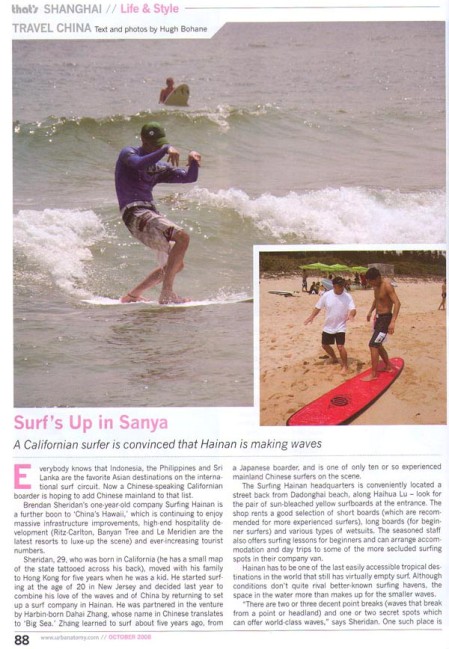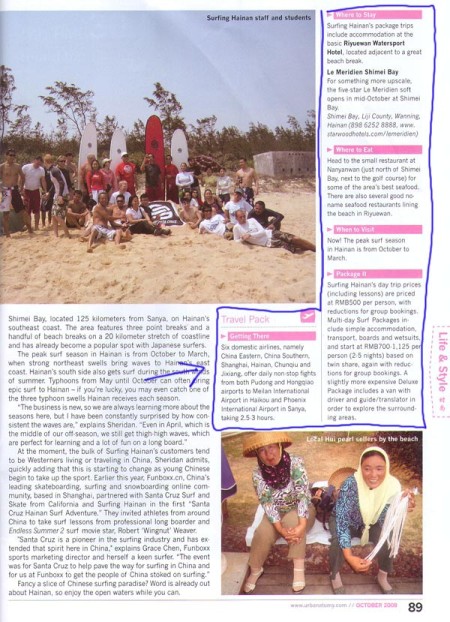 [Editor's Note: Learn more about opportunities to profit from your travels (and even from your own home) in our free online newsletter The Right Way to Travel.]