Ever seen a runner raise their hand in the air when they cross a finish line?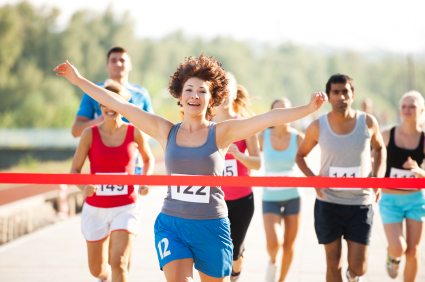 They say even people who have been completely blind since birth do this when they win even though they've never in their life seen anyone else do it.
When you're happy, your brain releases a chemical called dopamine and it travels down your face and makes you smile.
The same is true in reverse.
When you smile (even if it's a fake smile), you can trick your brain into thinking you're happy. Dopamine is released. And ultimately, you're happier.
The same is true about confidence.
When you're confident, you subconsciously make your body bigger.
You stick your hands and arms out, raise your chest, and stand taller like these confident people…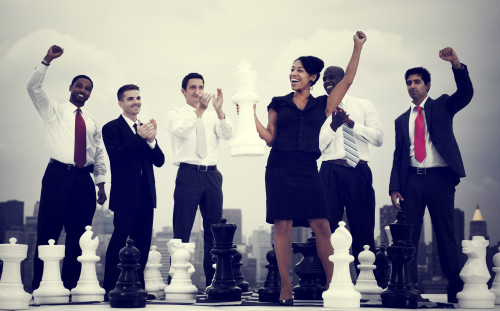 I'm telling you this today because the number one thing that holds most people back from accomplishing their biggest dream is fear.
Yet just like fake smiling can make you happier by releasing the same chemical your brain releases when it's happy, faking confidence using confident poses can help you get past your fear.
It's called "power posing" and it works.
Before your next…
sales meeting…
interview…
exam…
difficult conversation with a loved one…
or step toward a goal you're secretly scared of…
Try this:
1. Find a private space somewhere. If you're in a public building, try a bathroom stall.
2. Reach your hands high in the air… make your body as big as it can be… pretend you're crossing a finish line… and hold it there for 30 seconds. Or, if it's too hard to hold your hands up high, you can also put them on your hips… just make sure your legs are in a wide stance, you're standing up straight, and your elbows are OUT.
I use power posing on a regular basis when I'm speaking in public or have to negotiate with a tough vendor. I've also used it before teleconferences and difficult phone conversations when I have to step in between two fighting family members.
Heck, just last night I used it to win a battle with my three-year-old over whether or not it was ok to sleep with his muddy shoes on.
Your homework tonight: Power pose for 30 seconds in the bathroom and then take on a project you've been dreading. Call your mother. Call the phone company. Sign up for something you've been holding back out of fear. Upload those photos you have to an online stock agency.   Approach an editor with a travel story you've written. Join us for our Ultimate Travel Writer's Workshop.
You might just find that whatever you're afraid of is easier than you think, and you can conquer the world with a little power posing.