Some people get up at the crack of dawn. They go off to work with balance sheets…machine parts…annoying customers.
Me, I'm starting work by reading about mythological monsters. And I'm doing it over a leisurely late breakfast of fresh apricots and buttery croissants spread with local chestnut preserve.
For most people, the notion that what travel writers do is "work" is preposterous. I understand their point. After all, we're essentially paid to take in-depth vacations. But with the right know-how, anyone can mingle a little work with a lot of pleasure—and enjoy a lifestyle like mine.
This week my workplace is the French island of Corsica—I'm on a travel writing assignment.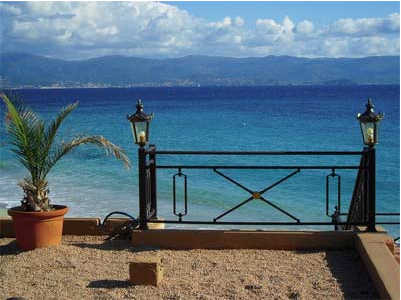 Like wining and dining, delving into a place's history and legends is always a fun part of any trip for me. So weaving such treasures into a story is never difficult.
Scented with myrtle and thyme, girdled with golden beaches, all of Corsica is a siren song to loveliness. But if you have even the slightest feel for long ago, don't miss Bonifacio in the island's far south. Overlooking the glittering Mediterranean, this citadel town delivers drama all the way.
In the Haute Ville (upper town), you can imagine yourself back in the medieval days of Genoese rule. Set precariously atop pale cliffs, this is a labyrinthine world of narrow passageways and tall skinny houses whose doorways stay in permanent shadow. Sieges, pirate raids, mysterious religious brotherhoods—almost every stone alley tells a tale.
Here a tiny sunlit square, there an antique church with a shrine to a flayed martyr. The aroma of freshly-baked bread drifts from a bakery. Shops are stocked with coral jewelry, shepherds' knives and French boutique fashions. A green lizard scurries across a wall.
After a coffee-stop, I take a walk to the marine graveyard where elaborate tombs create an eerie village of the dead. Mausoleums always remind me of marble dolls' houses. These tombs actually look more comfortable than the Genoese houses built for the living.
In truth, Bonifacio is more a place to visit than to think about buying or renting a home long-term. Wondering if tonight will be the night your house finally crumbles into the sea probably makes for a restless sleep.
The town feels as much Italian as French—you can see the Italian island of Sardinia from its battlements. Like the Genoese, the Spanish also tried to gain a foothold here. Tradition tells that the 187 steps of the "King's Staircase" were hewn out of the cliff by Spanish soldiers in a single night. But although Bonifacio was besieged by the King of Aragon in 1420, the lung-busting steps were more likely carved far earlier.
On the landward side of the citadel, a natural harbor serves as a marina for chic yachts and excursion boats. Some attractive terraced restaurants too. Given that Bonifacio is a tourist honey-pot, 10 euro ($13) isn't overly expensive for a cauldron of mussels and a glass of wine.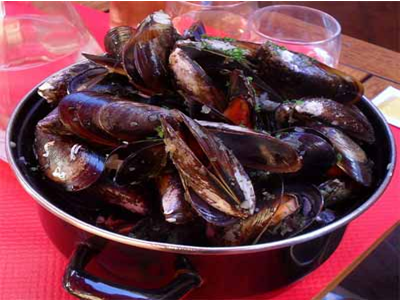 Down on the harbor, history reaches back even further—to the time of the Ancient Greeks. Riven with caves and grottoes, adorned with peculiar rock formations, Corsica's seascapes lend themselves to fantastical legends.
According to Homer's Odyssey, Bonifacio's inhabitants had a fearsome reputation. Odysseus had his unfortunate encounter with the Laestrygonians here. A savage tribe of ogres, they sank his ships and killed most of his crew by pelting them with boulders. And then, dear reader, they ate them…
Even the craziest tales sometimes hold a grain of truth. Maybe the Laestrygonians were one of Corsica's prehistoric tribes who didn't take kindly to strangers calling. Carved with reliefs of swords and daggers, the statue menhirs at nearby Filitosa suggest this was a land of warriors.
[Editor's Note: Learn more about opportunities to profit from your travels (and even from your own home) in our free online newsletter The Right Way to Travel.]