How high was that mountain? I'll just look it up. Oh, cute puppies – aren't they adorable? Heh, I didn't know a cat could do that. Wow, it's amazing what you can find online these days! 
Come on, admit it: We've all done it. And before you know it, an hour passes and you are still no closer to finding out the height of that mountain.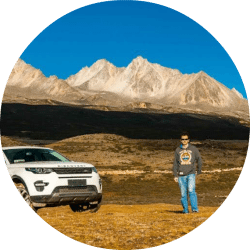 For any writer, losing your flow is one of the biggest challenges in writing – even more so for beginning writers. In our 24/7 connected lifestyle there are so many potential distractions, and minimizing these can be the key to success. 
Two letters that help me a lot are: TK 
It stands for "to come," or originally "tokum," and it's a useful placeholder for facts, figures, and specifics you need to research later.  (Apparently TC is more commonly autocorrected to other things so TK is more widely used.) 
By using this writing trick, you can blast your way through writer's block and avoid wasting time on the Internet. Not only will you write articles quicker, but they will be tighter, too – something editors are sure to appreciate. 
Here's how it works…
I recently used the technique when writing an article about a weeklong road trip around the Tibetan borderland area of Sichuan Province in China. Not only was I in need of the height of a mountain, I didn't even remember its name! Both were in my notebook, but to look them up would have disrupted my flow. So instead I typed: TK in both spots and kept on writing.
When I'm finished my draft, I look back and replace all the TKs with the right information. Sometimes, you'll see editors use this, too. On at least one occasion an editor sent me back an article requesting more details, using TK to indicate where she wanted me to fill in something.
Just remember to quickly Google or track down what you need, so you don't get sidetracked by those puppies… or Facebook… or dancing cats!  Such a crazy world we live in.
[Editor's Note: Learn more about how you can fund your travels and make an extra income with photography, travel writing, blogging, and more in our free online newsletter The Right Way to Travel.  Sign up here today and we'll send you a new report, Five Fun Ways To Get Paid To Travel: A Quick-Start Guide, completely FREE.]