I always wanted to do something different for a living. The cubicle life is fine for some, but it's not for me. I need fun, creativity, and adventure.
Travel writing, photography, and leading tours fit the bill. In fact, leading tours is about as far from a cubicle as you can get.
Having led more than a dozen photo and travel writing expeditions with AWAI and Great Escape Publishing, here are my Top Five destinations for photography…
5. Holland
Why: The staggering beauty of the countryside in spring, when tulips, daffodils, peonies, and more color everything. Also, the canals and reflections in the towns and old working windmills everywhere. Oh, and the cheese.
What surprised me: The way that a field spotted with slowly spinning windmills feels exotic, like a fairytale.
My favorite thing to photograph there: Flowers — whether macro or in the landscape — and windmills.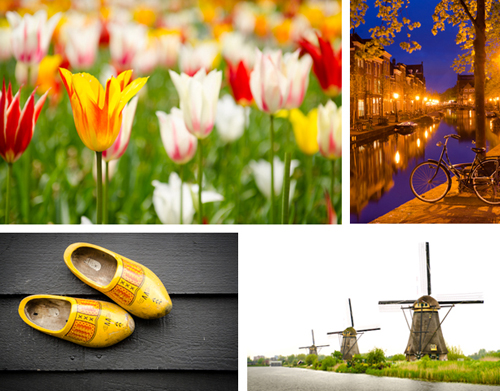 4. Bali
Why: With its daily festivals and offerings to various gods, moss-covered temples, and colorful sarongs spotting vast rice fields, Bali is saturated in a culture that's unlike anything I've seen.
What surprised me: How, even after their island has become a major tourist draw, the Balinese remain true to their traditions.
My favorite thing to photograph there: Markets, traditional dance, rice paddies, and monkeys.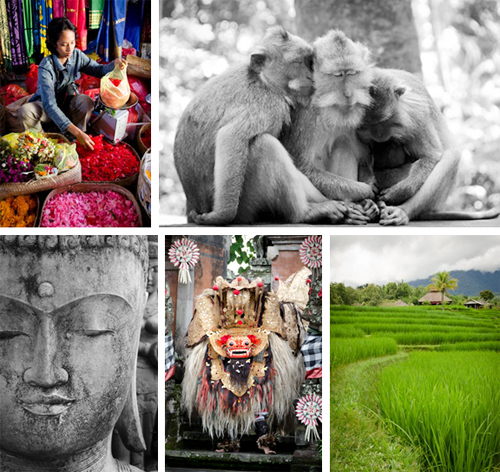 3. Ecuador
Why: Ecuador is one of the calmest, gentlest places I've been. In Cotacachi, where we stay, the air is clean, the food is organic, and the pace of life is slow and steady.
What surprised me: All of the delicious organic foods, and the exotic fruit juices we drank every morning. Also, the pure luxury of the La Mirage Relais and Chateaux resort where we got our massages. Didn't expect that in the middle of the Ecuadorean Andes.
My favorite thing to photograph there: Colorful weavings, hand-made leather goods, and the woodcarving workshop that we visit each time where three brothers hand-carve the statues for churches and cathedrals around the world. Fascinating.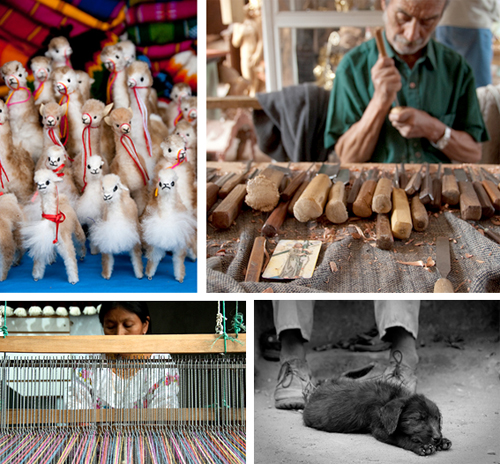 2. India
Why: India is an adventure in and of itself. It's frenetic, alive, and always moving. Every place you go is full of history and color. And the FOOD (especially the buffalo milk ice-cream) is amazing!
What surprised me: People not only don't mind if you take their photo, but they seem to love it. And they want to take your photo, too… and put you into their family photos. They're so friendly, and strike up conversations. I loved the people.
My favorite thing to photograph there: People from all walks of life and, of course, the Taj Mahal.
1. Thailand
Why: The food, architecture, people, and traditions are all entirely — and beautifully — different from what I know back home… and yet, it feels modern and clean. When I'm there I feel welcome, happy, and excited for more. And the cooking class we take. Thai food is my favorite international cuisine.
What surprised me: As in India, the people don't mind if you take their photo. It makes them smile. 
My favorite thing to photograph there: Temples, monks, canals and waterways, and the beautiful people.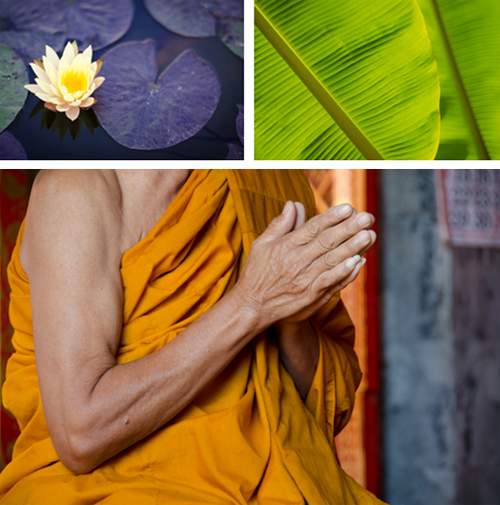 The best part about leading tours for me is getting to take PHOTOS in amazing places. And then sharing the experience with people who love the same things I do. I'm sure some people would rather lead scrapbooking tours, or history tours, or even vampire tours… but photography is my thing. And it's an immense pleasure to travel, share our photos and stories with fun people, and call it my "job."
I'll never have a "normal" job again!
[Editor's Note: Learn more about opportunities to profit from your travels (and even from your own home) — including how to create and lead your own tours — in our free online newsletter The Right Way to Travel.  Sign up today here and we'll send you a report, Get Paid to Travel as a Travel Writer, completely FREE.]