Sometimes it's hard being in high school and working scheduled hours every week. It becomes a balancing act between grades, teachers, work schedules, bosses, and a social life, or at least what is left of it. 
One day my dad forwarded me an email he had received about importing and exporting. After talking to my brother, who is two years younger and was experiencing the same struggles, we decided to give it a try. 
The lure of no bosses and no work schedule was pretty hard to turn down. After much thought, we both decided that the product of our first business venture would be wooden watches. 
Woodworking is something that has been passed down through the generations of our family. Our grandfather was a carpenter, who passed it down to our dad, who in turn passed it down to us. 
Wood has always been a part of our lives, and to show this we wanted to create something wooden to have on at all times. Women have necklaces, rings, bracelets, etc., to show their style… but watches are a man's one true chance to "accessorize." So naturally (no pun intended) wooden watches were the clear choice. 
After months of talking to manufactures and creating our own designs, we got our first set of sample products in, and decided to take our product to Kickstarter, a popular crowd-funding site. 
January 7, 2015 marked the end of the Kickstarter campaign and the birth of our new wooden watch company, Ambici (the Albanian word for ambition. Our company slogan is "Ambition is Timeless"). 
In about one month we raised over $21,000 in presales, which was more than enough to place our first order. As a senior and sophomore in high school, neither of us had ever dealt with that kind of money before, so the feeling was surreal.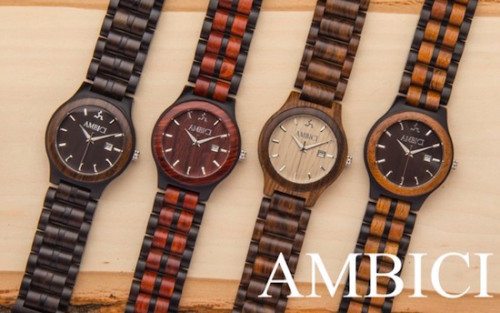 Fast forward, I am now in college at Louisiana State University, and my brother will likely be joining me next year. We are stilling running and growing Ambici. 
Most of our sales are through online stores, like Amazon or Etsy, or our own website. 
We have found that there are some pretty great perks to starting a simple import-based business to sell products online while still young and in school. For starters, our "work" time is a lot more flexible.  We're probably working the same amount of hours we would at a regular part-time job but with no boss to answer to, we don't have to work when we don't want to.  Like over midterm and finals weeks. 
And money aside, this has been a great learning experience that has taught me more about business and communication than school alone ever could have. 
The awesome thing about it is that anyone with a computer or smart phone and $50 can do this if they wanted. The main startup capital required is a little motivation and a little hard work.  That's what we put in.
I also believe the best time to start is today; no matter how young or old you are.  It can make for a great part-time or full-time job and will be way more rewarding than working for someone else. 
It's actually pretty fun!
Watches aren't the only thing you can sell though.  Read about Greg's water bottles here.
[Editor's Note: Learn more about how you can fund your travels and make an extra income with photography, travel writing, blogging, and more in our free online newsletter The Right Way to Travel.  Sign up here today and we'll send you a new report, Profit From Your Photos: A Quick-Start Guide, completely FREE.]