It's 80 degrees in the shade, but we're comfortable in our big, khaki-colored, mud-splattered Land Cruiser as we sit quietly watching a pride of lions lounge around in the grass just a few feet away.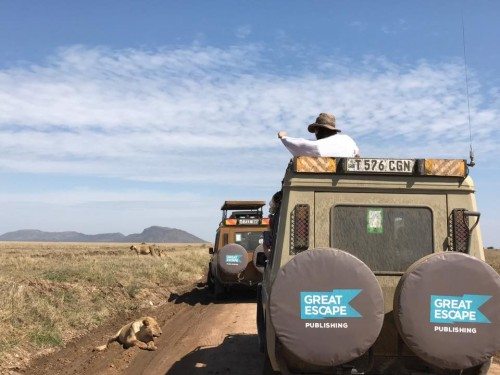 The walkie-talkie crackles a bit as one of the guides in another vehicle checks in with our driver. They're speaking Swahili, and their infectious laughter only heightens the feeling I have every time this happens: I really wish I could understand what they're saying.
We've all found ourselves in this situation, right?
You overhear someone speaking in a different language and long to be a part of the exchange…
Imagine if you could effortlessly jump into the conversation and contribute a few relevant ideas of your own, surprising the others and experiencing that sense of community that the ability to communicate effectively brings about… 
Not to mention being able to navigate your way around a foreign city more easily and order exactly what you want from a restaurant menu – no wild gestures, no frantic searches through an app or guidebook for the right phrasing, no drawing things on scraps of paper.
We don't have a Swahili language program…yet…but we are offering Spanish and French in a revolutionary new way that allows you to learn everything you need in a single afternoon, then "absorb" the language through relaxing recordings for 15 minutes in the mornings and at night, for as long as you want. 
I'm so excited about this program because I've seen how it's helped hundreds of folks with Spanish already. People just like you who maybe even tried one of those expensive language programs that force you to conjugate verbs for months and navigate complex levels – and you still can't even remember how to ask for directions or figure out what dish sounds good at a restaurant.
Using all-new language learning techniques that ACTUALLY WORK, last year we taught more than 8,900 people how to speak Spanish in a single afternoon followed by 15 minutes of relaxation recordings in the mornings and at night.
I didn't invent anything new in our program that hasn't already been tested by memory experts around the world (and the people who study brain activity when someone is trying to learn a new language). 
But what's really cool is that when you apply these ideas to something like Spanish, you can learn to speak it in just one day. After day one, it comes down to mastering pronunciation — and we have recordings to help you with that, too. They come free with the program. 
Before you know it, you'll be one of those people who can join the conversation no matter where you are.
[Editor's Note: Learn more about how you can fund your travels and make an extra income with photography, travel writing, blogging, and more in our free online newsletter The Right Way to Travel.  Sign up here today and we'll send you a new report, Five Fun Ways To Get Paid To Travel: A Quick-Start Guide, completely FREE.]