Scroll down for your weekly photo dispatch with a list of last month's Photo Challenge winners…
All monthly winners and honorable mentions throughout the year will be entered into the Hall of Fame, and have a chance at winning the yearly $2,000 Grand Prize in October.
The Photo Challenge is absolutely free and open to everyone.
Some people are having trouble uploading their shots to the system… make sure you resize your photo to two megabytes or smaller before you submit.
Lori Allen
Director, Great Escape Publishing
*********************
WHAT'S YOUR RESOLUTION — WINNING ENTRIES
"What's Your Resolution" was last month's Photo Challenge theme. We had some really varied and thought-provoking interpretations on the theme. Doing assignments like these is a great way to come up with photos for stock, since designers can interpret them in many ways, and use them to illustrate a variety of subjects.
Here are the winners…
**First Place goes to Chez for "Grasp Life"
**Second Place goes to bgaras2001 for "Time to go Wireless"
**Third Place goes to drei-toledo for "Meditate More"
FIRST PLACE – GRASP LIFE
The first place winner from December, Miley Caroll is our guest judge this month. Here is what Miley had to say about "Grasp Life" by Chez…
"My choice is 'Grasp Life,' for three reasons: 1. I like the way it was captured and framed. 2. I like the lighting. 3. I like the movement in the wings and the blurring effect in the background."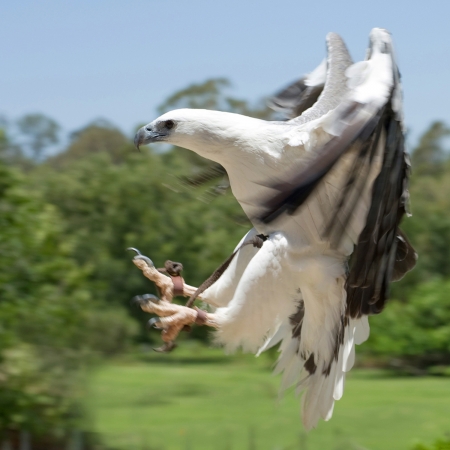 Miley's right, this is a fantastic catch. It's difficult to get this kind of action shot while keeping all the elements of the bird in the shot, allowing for motion, and still capturing a point of focus — in this case, the head of the bird.
The soft background is used well, too. Had those trees been in sharp focus, it would have drawn too much attention away from the bird.
SECOND PLACE –TIME TO GO WIRELESS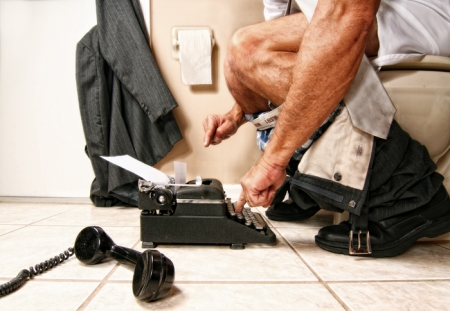 This photo has a unique and interesting camera perspective, shooting across the floor. It's humorous and full of story. The lighting is done well and the photographer did some very nice post-processing work on the image. It has good composition — perhaps a tiny bit cluttered for stock, yet every element is part of the story, so I can't say I would change it. And honestly… isn't that how it feels sometimes?
THIRD PLACE – MEDITATE MORE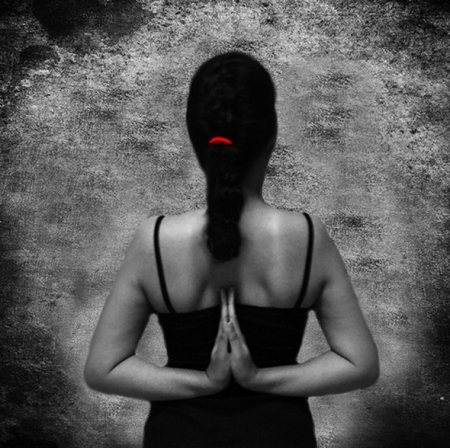 I like that the artist chose to crop this image in a square. It's balanced, which is the theme this artist is going for. The textured background helps create a calm and meditative mood, too. Remember — I always tell people to use the Rule of Thirds as a guide, but this is a good example showing that sometimes it's ok to break it. Just be sure you're breaking it consciously and with purpose.
The selective red of the hair tie is very important in this image, too. Without it, the woman's head would be a solid dark space dead center in the photo, which would be rather distracting, I think. There are some visible braid details which could be brought out a bit more, but overall I find it to be a compelling piece — the kind someone might frame and have on their wall somewhere.
Congratulations to everyone who entered… there were some really fun, experimental shots in this challenge, and several more I wish I could show you here. And be sure to go have a go at February's challenge, "Life is Sweet."
ENTER TO WIN!
Remember, this month's theme is "Life is Sweet." To enter, submit ONE photo by 8:00 a.m. EST, Monday, February 23rd. If you're a first-time user, you'll need to register first on the "register" link on the right side-bar. Once you have a username and password, click "Enter to Win" to upload your photo. Only one photo per applicant will be considered.
[Editor's Note: Learn more about how you can turn your pictures into cash in our free online newsletter The Right Way to Travel. Sign up here today and we'll send you a new report, Selling Photos for Cash: A Quick-Start Guide, completely FREE.]