Last month's photo challenge theme was "Game On." and the winners are…
**First Place goes to CM for "Hiking South Africa"
**Second Place goes to Staggart for "Aiming High"
**Third Place goes to WhippetGood for "Running at the speed of Hound"
**Honorable Mention goes to Deborah_kolb for "Hip Hop Flyer"
Here is what Treva, last month's winner, had to say about her pick of "Hiking South Africa" by CM …
FIRST PLACE – HIKING SOUTH AFRICA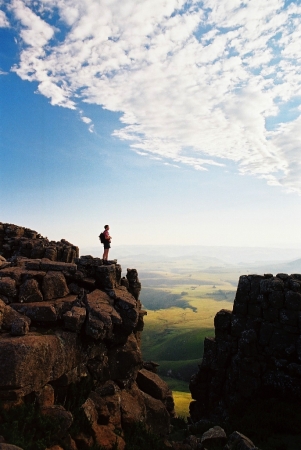 "Being a guest judge is not an easy task! I was drawn to a number of entries, but "Hiking South Africa" had immediate wow factor. The shot is hypnotic and makes me feel like I am right there, behind the lens. So, I've chosen it as my number one pick."
Though Treva had a hard time placing her finger on what exactly makes this shot jump out, I'd imagine it had a lot to do with its remarkable technical qualities.
The placement of the person on the thirds line looking into the picture is great. The opening between the rocks, looking out onto the expansive valley below, and the mirror-like shape of the clouds above lead the eye into the frame. The size of the person in the composition gives us a true perspective of how massive the landscape is…along with a sense of remoteness. And the lighting, low in the sky and possibly diffused by a cloud, gives this shot a really nice glow.
SECOND PLACE – AIMING HIGH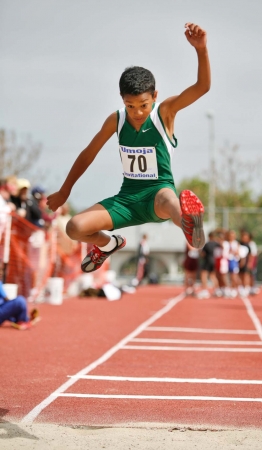 Fantastic shot! The composition is a perfect action shot with the boy on the top third and a bit of the sand pit on the bottom so we (the viewer) have a sense of where he will be landing. I love the action and the expression on the boy's face. Another commendable aspect of this shot is the depth of field — it makes the boy "pop."
The other competitors and spectators are there in the background, which is fine with the depth of field shallow like it is. Had this same shot been taken at F22, with everything in focus, it would not have the same impact, and the background would be distracting. This boy definitely has his "game on."
THIRD PLACE – RUNNING AT THE SPEED OF HOUND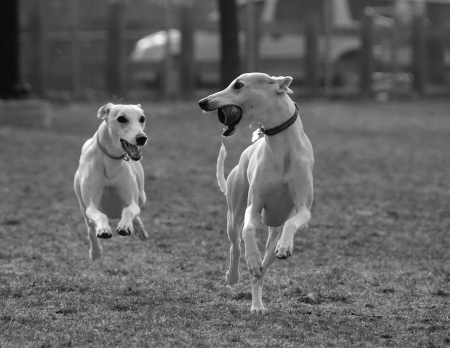 With the expressions on the faces of these two (not to mention their body language), I am sure one of them has just said "game on." This shot also uses good depth of field — very important here as the car in the background — which would have otherwise been distracting — almost disappears, blending into the distance.
The shallow depth of field puts all the focus and our attention right onto the dogs. Also, the way the light is playing off the dogs not only adds to the playfulness of the shot, it's another factor that draws our eye to the dogs since they are the area of greatest contrast. Very playful, fun shot.
HONORABLE MENTION – HIP HOP FLYER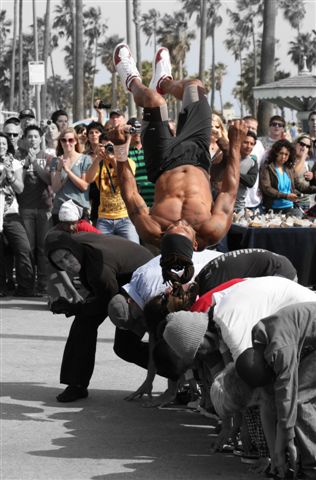 Another good action shot, nicely composed, and full of "story." This photographer employed the use of color, rather than depth of field, to give the subject pop, setting him apart from the rest of the image.
You can find out how to use spot coloring in your own photos in our e-letter archives, here.
ENTER TO WIN!
Remember, this month's theme is "Laughable Photographable." Submit your photos by 8:00 a.m. EST, Monday, June 30. If you're a first-time user, you'll need to register first on the "register" link on the right sidebar. Once you have a username and password, click "Enter to Win" to upload your photo. Only one photo per applicant will be considered.
[Editor's Note: Learn more about how you can turn your pictures into cash in our free online newsletter The Right Way to Travel. Sign up here today and we'll send you a new report, Selling Photos for Cash: A Quick-Start Guide, completely FREE.]