Last month's Photo Challenge theme was "As Good As Gold," and there must have been a few people out there hoping to take the gold on this one.
At least 25 of the entries were serious contenders — but, since we have to narrow it down, here are the three winners with one honorable mention…
** First Place goes to profjjw for "Bee Feeding"
** Second Place goes to Stanley101 for "Golden"
** Third Place goes to chez for "My Golden Dream"
** Honorable Mention goes to Lorna for "Papyrii Reeds to Instant Gold"
Here is what Lynnette Peizer, our winner from September, had to say about Bee Feeding from profjjw, her number-one pick and this month's winner…
FIRST PLACE – BEE FEEDING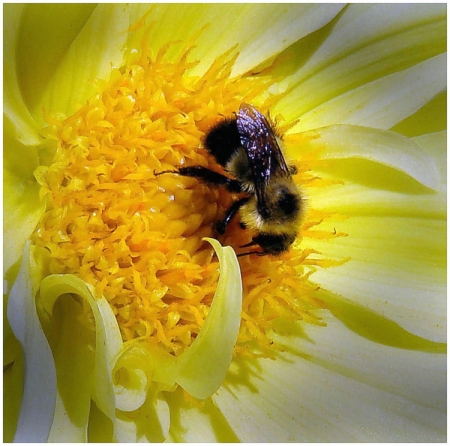 "'Bee Feeding' is my choice for the 'As Good As Gold' theme winner. I like the way the petal lines lead the eye to the subject of the image. The enjoyment and action of the bee on the flower portrays this month's theme perfectly. To the bee, the flower truly is 'as good as gold.' The photographer carefully applied the rule of thirds, too. Diagonals, leading lines, great focus, and lighting all contribute to this lovely image. Congratulations!"
I agree. It's a beautiful shot, and the photographer has nice depth of field and focus for such a close-up shot… which is not always an easy thing to achieve. The first-place winner will receive a $30 gift certificate to the AWAI e-bookstore along with a chance at the $2,000 grand prize next October!
SECOND PLACE – GOLDEN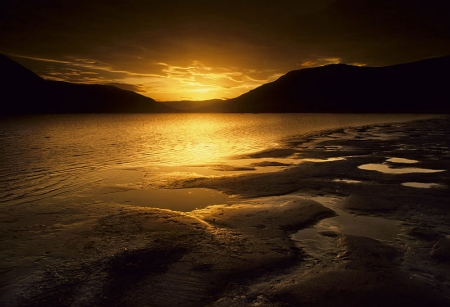 This is simply a stunning landscape shot, with dramatic tone-on-tone color. The thing that really makes this shot pop for me is the foreground. Without the texture of the sand, this would be just another beautiful sunset (or sunrise). With the foreground, we, the viewers, have a place to be… to stand… to let our eyes wander through this image, back and forth from the texture and reflections of the ground to the reminiscent cloud streaks in the sky.
I don't know if the color is natural or a post-processing choice, but it matters not. It's beautifully done.
THIRD PLACE – MY GOLDEN DREAM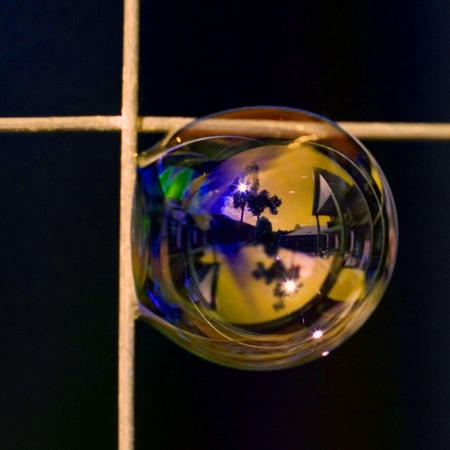 Here's a lovely shot with dramatic colors. It's another example of a close-up shot that achieved good focus — and on the slim skin of a bubble, no less. What I like best is the mixture of art, playfulness, mystery, and intrigue. It's like a picture within a picture — a world in a bubble.
HONORABLE MENTION – PAPYRII REEDS TO INSTANT GOLD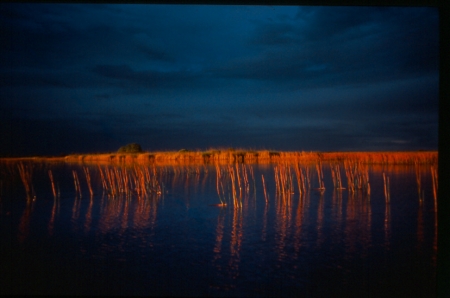 This image is quite striking, but it's the description that really won me over. Here's what Lorna wrote:
"From a canoe on the Okavango Delta in Botswana, during a rain storm, the sky was black with clouds when, for an instant, the sun came out and turned the papyrii reeds to a brilliant gold; barely time for a quick shot before the reeds returned to dullness."
Though the photo is lovely, without Lorna's description, I would not really have known what I was looking at. To know that she was in a canoe during a rain storm, and had a momentary window of opportunity to get this shot, makes it that much more impressive to me. My only wish is that the horizon were not so close to center, perhaps less sky and more water, elongating the reflections.
All four of these photos will be entered into our $2,000 grand prize challenge next October.
ENTER TO WIN!
Remember, this month's theme is "All that Glitters." Submit your photos by 8:00 a.m. EST, Monday, Jan. 5. If you're a first-time user, you'll need to register first on the "register" link on the right side bar. Once you have a username and password, click "Enter to Win" to upload your photo. Only one photo per applicant will be considered.
[Editor's Note: Learn more about how you can turn your pictures into cash in our free online newsletter The Right Way to Travel. Sign up here today and we'll send you a new report, Selling Photos for Cash: A Quick-Start Guide, completely FREE.]