Each month it seems like the entries we receive for our online photo challenge get better and better.
It's getting more difficult to pick the winner… especially with last month's theme –Blood, Sweat and Tears. It encompassed such a wide variety of subjects, that there were a half a dozen shots I would have loved to put in the top three. But, whittle down, I did…
Our guest judge this month is Heather Hicks, who took the winning photograph in December's challenge.
Heather did a great job choosing this month's first-place winner, a genuinely moving photograph.
You'll find it here, along with my picks for second and third place:
** First Place goes to jguffey for "Too much … too much."
** Second Place goes to vcgodinich for "Log Run."
** Third Place goes to mhonegger for "Running of the Bulls in Arles, France."
FIRST PLACE — TOO MUCH …TOO MUCH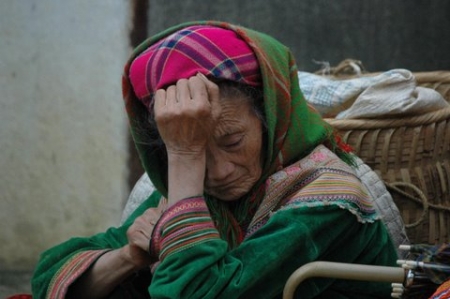 Heather was obviously moved by the image she chose … read on to hear what she had to say about it …
"I am totally in love with 'Too much… too much.' The photographer captured the woman's emotion, showing that sometimes life really does involve blood, sweat, and tears. Even though life has taken its toll on her, the photographer was able to capture this woman's beauty and grace. My heart is drawn to her and I wish that I could sit with her and hear all about her life adventures. What a powerful photo!"
When photographs move people in such powerful and emotive ways, they work. And you can sometimes forgive certain technical errors (like the umbrella that clutters the bottom right corner of this image) when a photo really makes such a strong emotional impact.
Will an editor or photo buyer forgive the umbrella? Maybe not. But certainly this photo stole Heather's heart (and won the photographer a choice of gifts from our prize list), which just goes to show how powerful emotion is in photography.
The lesson here: When you have a chance to get a shot like this – take it. Think first about getting the shot and then about what you'll do with it if it falls short on technical perfection. After all, just 30 seconds after this picture was taken, I bet this woman raised her head and the opportunity was gone.
SECOND PLACE – LOG RUN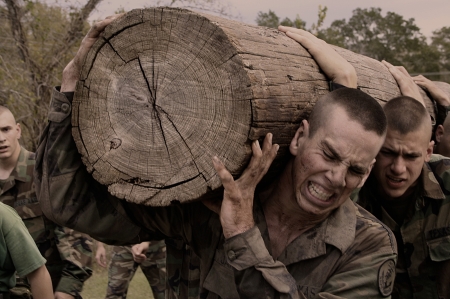 This image is tough and gritty — and it has several things going for it. First, it really speaks to the theme "Blood, Sweat and Tears." It tells a story, one in which there is little doubt that these guys are straining under the weight and burden of that log, a story of team work, goals, and endurance.
Second, the composition is strong. The main subject, the man who is front/right, is in a very good position on a horizontal, three-quarter line (remember the Rule of Thirds).
I am also glad the top of the log has been kept in the shot, a small detail that would have been easy to loose. The repetitive shapes — the circle of the log and the men's heads — add interest. The perspective of this shot is also very nice as it really provides a sense of depth.
Third, the "pieces" of people we see help tell the story without cluttering the photo. I like seeing part of a face, the arms, legs, even just an ear on the far right. Though these parts of the scene are not the main subject, they tell us a lot about the story. Were all those people included, in full, they could easily make this image too busy and scattered. But the partial inclusion works. It's a tricky technique to do well, but this photographer got it right-on. And without those elements, we would loose half the story.
I should point out, too, that this image has a strong color cast, which may (or may not) have been intentional on the photographer's part. It may be that the photographer purposefully "cross processed" this image, creating that subdued tone, which is a perfectly acceptable artistic technique.
Or, it may be that the camera was simply set for the wrong color of light. Intentional or not, the color cast is effective.
THIRD PLACE — RUNNING OF THE BULLS IN ARLES, FRANCE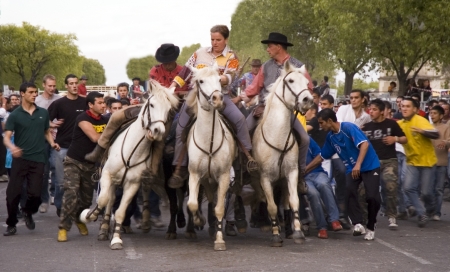 This shot has momentum, and its all coming toward the camera. It has a dynamic energy, almost like a frenzy — and drama. When I look at this shot I am really worried that something bad is about to happen. It leaves me wondering, hoping that the horse on the left did not fall, the guys stayed on, and no one got trampled.
Though I am not usually a fan of centering the subject, in this case it works. This perspective helps us see the whole story. Perhaps another vantage point would have worked just as well, but from where the photographer was at this moment, going wide and centering the subject was, I believe, a good call.
Congratulations to all three winners. The first-, second-, and third- place winners will all be entered in the grand prize contest for a $2,000 prize in October.
ENTER TO WIN!
For more information about our Photo contest click here and register to win.
First-time users should register first on the "register" link on the right side bar. Once you have a username and password, click "Enter to Win" to upload your photos. Only one photo per applicant will be considered.
[Editor's Note: Learn more about how you can turn your pictures into cash in our free online newsletter The Right Way to Travel. Sign up here today and we'll send you a new report, Selling Photos for Cash: A Quick-Start Guide, completely FREE.]