It's official. I'm in love with using a tripod. Jackie, here, reporting from our Seville Photography Expedition. Here's one of my favorite shots from our twilight shoot last night…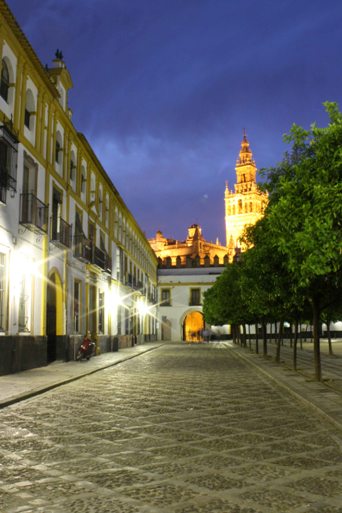 Efrain let me borrow his tripod and I have to say, I'm hooked. The cathedral's famous bell tower, La Giralda, glows in the beautiful night sky.
Efrain is a pro at night photography. And he'll tell you that twilight is one of his favorite times to take pictures. About a half hour after sunset the sky becomes a rich, cobalt blue, as you can see in Efrain's photo below. It's the perfect backdrop for flood lit buildings and cityscapes.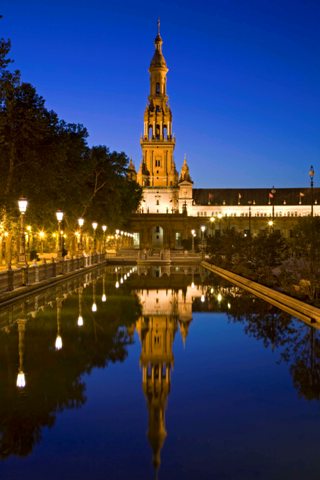 Because of its many illuminated buildings and active nightlife, Seville is the perfect place for twilight photography. Here are some tips Efrain gave attendees (and me) last night to improve our photographs at twilight…
**1. Scout your subject. If possible, determine ahead of time if your intended subject is lit at night (it will save you a trip if it's not). If so, find out the hours the lights are on (a nearby security guard is always a good resource for this information). If the lights are on into the morning hours, this will give you two options (morning or evening). Also, remember to ask if the lights are working (not always a given).
**2. Use a tripod. Because of the low light conditions present at twilight, shutter speeds will be slow (a handful of seconds), so you will need a steady platform to avoid blurred subjects. Photographing at slow shutter speeds from a tripod will also allow you to blur walking people and other moving objects, adding movement and variety to the image.
**3. Photograph at twilight. There is a difference between twilight and night. At night the skies are black. At twilight, they're blue. A blue sky is richer and more pleasing than a black sky. And the portions of a building that are not illuminated tend to disappear against a black sky, but are nicely delineated against a blue one.
**4. Use a low ISO. Many photographers dislike using tripods because they slow you down and are cumbersome to use. In low light conditions they opt for ratcheting up their ISO to increase their shutter speed and hopefully get a sharp image. Unfortunately, raising your ISO will also increase noise (also referred to as "grain") in the dark areas of an image. Setting a low ISO (100 or 200) and using a tripod, on the other hand, will produce images that contain clean, rich shadows.
Watch your inbox for more tips straight from Spain tomorrow.
One more thing… What Does "NO8DO" Mean?
In a previous email Efrain mentioned that he had given our attendees an assignment to find out the meaning of NO8DO, a symbol found in a number of places around Seville, including sewer covers.
After a little research we discovered that the symbol is a play on words (like a vanity license plate) that, roughly translated, means "Seville has not left me," a phrase that connotes love, pride and affection towards the city.
Together with a few other symbols (yet to be found!), these interesting bits of information could be turned into a "Hidden Symbols of Seville" story.
[Editor's Note: Learn more about how you can turn your pictures into cash in our free online newsletter The Right Way to Travel. Sign up here today and we'll send you a new report, Selling Photos for Cash: A Quick-Start Guide, completely FREE.]