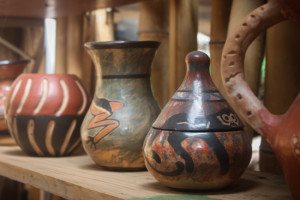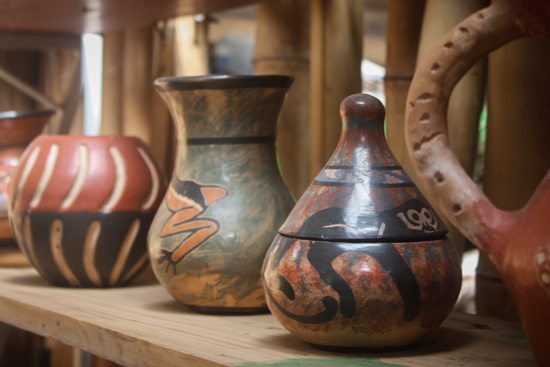 There's more to pottery than just clay and fire.
This is one of many lessons we learned at Guaitil Pottery Studio today, an authentic Costa Rican pottery space in the quaint beachside town of Tamarindo.
The owners of the space have been practicing a style of pottery that's been passed down, generation to generation, for more than 800 years.
Pottery is one of the country's few remaining indigenous crafts that's still widely practiced today.
Paula Pant here, writing from the second full day of our travel blogging workshop.
We met this morning to discuss one of the most-anticipated topics of the trip: how to monetize your blog.
And the ideas are actually quite simple.
In today's session, we covered a dozen different ways that people can earn money from their blogs, including:
#1. Display Advertising: This is what most people imagine when they think of earning money from a website or blog. Display advertising, as the term implies, involves placing an advertising banner on your website and earning money based on the number of readers who view the ad, click on the ad, or both.
Here's an example of a banner ad:

#2. Affiliate Marketing: This involves recommending a product or service, and then earning a commission whenever someone clicks on your link to purchase that item. If you recommend a book on Amazon, for example, you can earn a commission on the sale of that book – and on anything else the reader purchases on Amazon within a specific time period. If your reader buys a book plus an $800 piece of exercise equipment, for example, you can earn a commission on the sale of both items, even though you only recommended the book.
#3. Product Sales: You could sell your own product or service through your blog. One of my favorite blogs, for example, sells T-shirts with the name of the blog written on them. (And yes, I bought one.) One of my friends sells a monthly subscription to a gift box that's custom-tailored for new moms.
#4. Services: I know several other bloggers who don't sell physical products, but instead offer coaching or consulting services. One man, for example, is an expert at redeeming frequent-flyer miles. He knows how to stretch every last mile, getting the maximum value out of your rewards.
He writes a blog that shares this knowledge openly, teaching people how to maximize their miles. In addition, he offers to just do it on your behalf for a $125 fee.
This is a win-win: the people who want to learn about maximizing miles can get educated for free. The ones who don't have the time or inclination to learn it themselves can hire him to take care of it.
These are just four examples from a dozen different ways that we covered in today's workshop. And that's part of the beauty of blogging: you don't have to earn money in one prescribed way. You can choose to monetize your blog in whatever way feels most comfortable and natural to you.
Interested in becoming a money-making blogger? Here's your homework for tonight:
Think about how you'd like to earn money from a website or blog. Do you want to stick ads on your website, or would you prefer to keep your site ad-free? Do you want to earn commissions on products that you recommend?
Do you want to sell sponsored articles – similar to an 'advertorial' in a newspaper? Or would you prefer to offer services to your readers?
Perhaps you'd like to publish e-books. Or maybe you want to sell a physical item, like jewelry or clothing.
You can pick more than one money-making strategy, of course. For the sake of your own time, you probably shouldn't pursue a dozen strategies, but you can choose two or three that appeal to you.
Look at the list above and write down the money-making strategy that you'd most like to pursue. Then think about how to integrate this with the articles you write.
If you feature a lot of photography on your blog, for example, you could include affiliate links to cameras and lenses. Or if you write frequently about hiking, you could include affiliate links to some of your favorite gear.
Brainstorm a list of ideas. You don't need to act on this just yet, but keep it in the back of your mind as you start your new blog.
If you missed us in Costa this week, get step-by-step instructions, here.
Time to run. We're sailing and snorkeling on a catamaran tomorrow, so I'm heading to bed for a good night's rest beforehand.
[Editor's Note: Learn more about how you can fund your travels and make an extra income with photography, travel writing, blogging, and more in our free online newsletter The Right Way to Travel.  Sign up here today and we'll send you a new report, Profit From Your Photos: A Quick-Start Guide, completely FREE.]