It's Day 3 of our Travel Blogging Expedition in Costa Rica.  And today we had the pleasure of visiting the Guaitil Pottery studio in Tamarindo.
An 800-year-old tradition, this type of pottery was started by the Chorotega Indians and has been passed down from generation to generation throughout Central America ever since.  It's one of Costa Rica's remaining indigenous crafts.
Arbin, shown below, is the studio owner and the only one of nine children who followed in his mother's footsteps to continue the craft.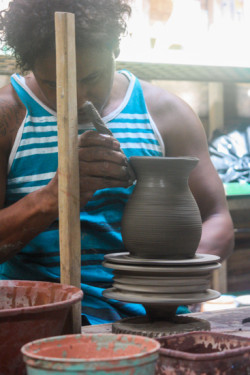 When you're standing in Arbin's studio, you can see that he uses unique materials to work with the clay.  His pottery wheel is actually made from an old hubcap and, while manually spinning it, he steadies his hand on the wood piece to the left and uses a corn cob to shape it.
Once dry, he uses colors made with natural plant dyes (in the containers in the forefront) to paint it.  Then, as you can see below, he shines the pot by rubbing a small piece of plastic all over the surface.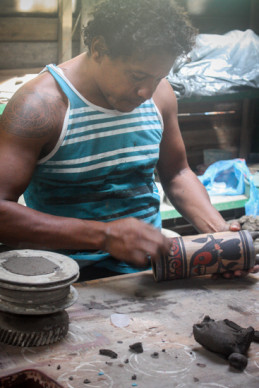 His studio contains pots of all different shapes, sizes, and colors. Here's a quick snapshot of just some of the beautiful, finished pieces: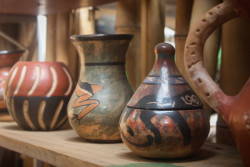 Arbin's story is great and there's a blogging lesson in it for you, too.
Before we left Arbin's studio, most of us bought a pot (and some even bought two).
We'd seen pots like his all over town  yesterday. But we bought from Arbin because we got to personally meet him, learn his process, and connect with his story.
The same reason we bought from Arbin is the same reason people will decide to follow your blog (or not). (It's also how to keep readers on your blog.)
Paula says "People don't read blogs, they follow bloggers."
In order to create a following on your blog, you must first develop a relationship with your reader and keep them connected through your story.  Once they feel connected to you, they'll want to keep returning to read, again and again. And by increasing your readership, you'll increase the success of your blog.
[Editor's Note: Learn more about opportunities to profit from your travels (and even from your own home) in our free online newsletter The Right Way to Travel.  Sign up today here and we'll send you a report, Get Paid to Travel as a Travel Writer, completely FREE.]