Meet Mike…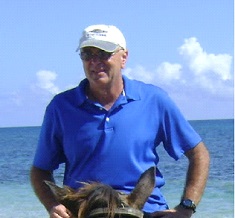 Mike has always felt that traveling is a part of who he is, but he often had to put off his travel plans for "real world" responsibilities.
Sound familiar?
When Mike decided to put his love of travel first, he began writing about his adventures on his blog, Travel Thru My Eyes.
Now, he travels the world as a freelance writer who pays his way by house- and pet-sitting at each destination. This "job" as a blogger and writer allows him to stay a few days to a few weeks in each location, giving him time to explore each city like a local would and blog about it at his leisure.
"Today my office may be at home in Florida.  But tomorrow, it may be someplace else in the Americas, the Caribbean, Europe, or any other country in the world. One of the perks of my "job" is that the office view is always changing."
Mike reads The Right Way to Travel, just like you. He took advantage of our Money-Making Travel Blogs program a few months ago and now is living and sharing the life he always dreamed of.  And he's not the only one. Look at what some of our other readers are doing…
Zenaida des Aubris:
Zenaida describes herself as "a lady in her prime traveling solo." She's currently on a 9-month trip around the world where she blogs about destination travel, art, and museums.
Deirdre Magner: www.ambleontours.com
Deirdre Magner blogs about local travel and she also uses her blog to promote her own tours to Ireland…  
Janice Sakata Schultze: www.janiceschultze.com/blog-2
Janice not only writes about local and domestic travel, but also food and photography, and occasionally sports, fitness, and knitting.
Kathleen Byrne: www.winetramp.com
Kathleen's blog explores under-the-radar wineries in the Midwest, Arizona, Colorado, and lesser-visited areas of California, Washington, and Oregon.
Teppie Schwartzel: www.ExpatAdventureBlog.com
Teppie's blog will tell you what it's like to travel as an expat and what to expect from expat life.
Robert Culpepper: www.ExpatWisdom.com
Along the same lines, Robert's blog shares his experiences of what it's like to live, work, and retire as an expat in Latin America.
Jim Jolliff: www.followingjim.com
Jim writes about his world travels and delicious recipes that are easy to follow and recreate.
Sharon Calvin: www.fourcornering.com
Sharon blogs about her Southwest adventures living the"4 corner states" –Arizona, Colorado, New Mexico, and Utah.  
There really is no limit to the things you can blog about. House-sitting, travel, cooking, fashion, art, adventure… there is room in the blog-o-sphere for whatever makes your heart sing.
The only question is when you're going to start.
[Editor's Note: Learn more about opportunities to profit from your travels (and even from your own home) in our free online newsletter The Right Way to Travel.]