Blogging – the art of writing your story online for the world to enjoy – is immense fun, no matter how many people are reading it. But it's even more enjoyable when you have an audience that's eagerly awaiting your next update.
This is Paula Pant, writing to you from the fourth full day of the Costa Rica Travel Blog Workshop.
We're staying at a luxurious five-star resort that's on the edge of the Pacific Ocean. After a delicious breakfast (you wouldn't believe the amazing array of fruits), we avoided the temptation to head directly to the beach.
Instead, we devoted a few hours to wrapping up the educational piece of this trip: learning how to promote your blog so that you can earn money by writing your stories online, from across the world, without needing to please or placate an editor.
As I keep telling everyone here, your blog success depends on your ability to grow your audience. We spent a lot of time talking about how to attract readers to your blog.
There are three main ways that new readers find my blog.
Some readers find me through Google. Some find me through referrals from other websites – like when a media outlet quotes me, or I publish a guest article on another blog. (We discussed both yesterday.) Finally, some readers find me through social media websites, like Facebook and Twitter.
We spent a few hours today talking about this final piece of the puzzle, social media. I shared tips on how to make sure you're using social media correctly – both to engage with your current readers and to attract new ones.
We talked about using photos and images to make your social media updates "pop." We discussed ways that you can engage in an ongoing conversation with your readers without letting social media monopolize your time. We chatted about social etiquette, and I couldn't resist showing a few hilarious high-profile examples of what not to do.
When everyone leaves Costa Rica, they'll be armed with a step-by-step plan for exactly how to launch and grow their own blog during those pivotal first six months.
If you'd like a step-by-step guide for blogging success, learn more here.
While you're reviewing the plan, keep these three things in mind:
#1: Your readers come first. If you want to earn money as a blogger, put your readers first. Here are a few practical ways in which you can nurture your readership:
Write articles that inform and entertain. If you want to write about food, for example, don't just describe what you had for lunch; write practical information like recipes or restaurant reviews, and enhance the entertainment factor with photos or humor.
Reply to comments and questions that your readers leave on your blog.
Engage with your readers on social media, and encourage your readers to interact with each other through Facebook groups and other social media platforms. The more you facilitate interaction, the more you'll develop a loyal and growing community.
Develop an email list so that your readers can subscribe to your blog updates. (We discuss exactly how to do this in the course.)
#2: The people who get the most blog traffic are the ones who:
Write for humans, not for search-engine algorithms. The good news is that you don't need to worry about complicated, sophisticated techniques that can help you climb Google's rankings. The more you create genuinely good articles, the more you'll naturally rise to the top of Google's pages. The simplest technique is also the most effective.
Use words and images. The most engaging stories are the ones that use a combination of words and images (whether it's photographs, videos, or even drawings) to tell a story.
Make guest appearances. As we discussed yesterday, making a guest appearance on another blog – by writing an article, for example, or by participating in an interview – can help you expand your reach and influence.
#3: When you're starting a blog, follow these critical actions:
Promote, promote, promote. It's futile to create amazing articles and hope
that someone stumbles upon your work. You need to actively promote your material (something we discuss at length in the course).
Promote some more. Make guest contributions to another blog or website. Be active on social media. Search for interview and media opportunities.
Content is king; design is queen. In other words, it's not enough to simply write good articles. You should also design a good-looking website (another topic we discuss at length in the course).
Start collecting emails immediately. Don't just hope that readers will remember to return to your blog. Instead, create an email list from Day One.
Create a story idea file. Story ideas are everywhere, and once you train your mind to look for ideas, you'll have far more topic ideas than you could ever cover.
That's just a glimpse at what we've covered. There's substantially more detail – I could talk for hours about all of the above points – but right now, it's time to run. It's nearly dinnertime.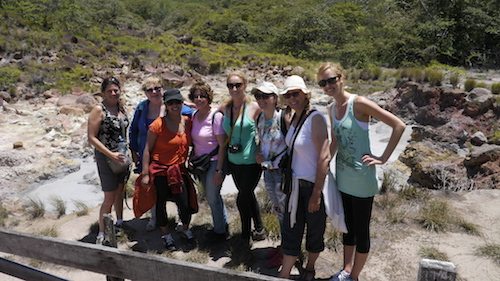 I can't believe how quickly this trip went by. I hope you can join me next year.
[Editor's Note: Learn more about how you can fund your travels and make an extra income with photography, travel writing, blogging, and more in our free online newsletter The Right Way to Travel.  Sign up here today and we'll send you a new report, Profit From Your Photos: A Quick-Start Guide, completely FREE.]