THANK YOU to everyone to filled out our 2014 year-end survey. I love looking through the progress we've made so far… and thinking forward to what we'll do next. If you haven't made any stock photo sales, yet, don't worry. Keep in mind that it's a slow-starting game. You get rejected. You spend time figuring it out. You upload more photos… and in a year, you're making a consistent income. The trick is simple: Sticking with it and continuing to move forward. With that in mind, let's take a look back at how Breakfast Stock Club readers did in 2014… Progress We made some great progress in 2014, with an increase over the previous year in the amount of readers who got accepted to their first agency and/or made their first sales — YES! Congratulations for taking the leap! Reading through the survey, a common theme that emerged is the idea of gaining momentum and doing more. Readers talk of taking more images, submitting to more agencies, making more sales, and gaining more confidence along the way. Keep it up! And if you haven't made your first sales yet, rest assured that if you keep working on submitting images, searching for interesting subjects, honing your photographic skills, and thoroughly keywording, sales are definitely within reach. First Sales 23% of readers who responded made their first sales this year, which is almost double last year. As far as keeping momentum going, nearly 70% of respondents said they continued to build their portfolios and improve their images. 26% joined more agencies than they were in before, and 46% got accepted to their first stock agency or agencies.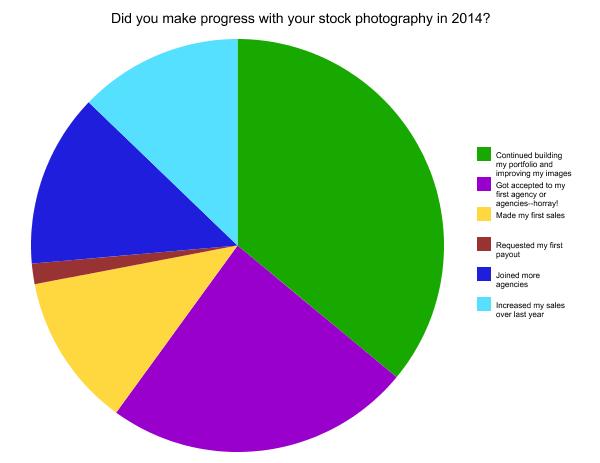 Agencies According to Breakfast Stock Club readers, the number one agency for sales in 2014 was still Shutterstock, followed by Dreamstime. Others on the list included iStock, 123rf, Bigstock, and Fotolia. Achievements Here are a few of my favorite achievements that readers shared from 2014:
Getting accepted by several agencies.
Sold more photos and uploaded more.
Improving my acceptance rate to about 80%.
I saw an increase in sales this year.
I have learned so much from the comments about the photos that were rejected! Right now it's almost better than the accepted ones. Notice I did say almost.
Selling over 160 photos in the last 4 months of the year & receiving my first check.
Becoming more selective about what I submit.
My biggest achievements were getting Adobe Lightroom and learning to edit photos a little more, as well as joining BSC Premium and trying the "challenges."  It has really helped give me a new perspective and motivation to shoot photos when I am lacking inspiration.
My biggest achievement in 2014 was getting payouts from Fotolia and Shutterstock more than once.
Getting accepted to Shutterstock. Third time was the charm.
Selling that first photo.
Having sales every single day of 2014 with Shutterstock.
Joining Breakfast Stock Club.
Improving my photography skills in general & understanding more about my camera.
Went over 50k in total sales at one agency.
Added over 1000 images to my portfolio
Goals
And finally, here are some of my favorite Breakfast Stock Club reader goals for 2015:
To get motivated, and build my confidence to actually submit photos to stock agencies.
To sell $100/month for stock or stock video.
To sell lots and lots and learn so much more.
Join more agencies, take more photos and submit photos more frequently.
Uploading more photos, being accepted on more sites. And getting a check would be nice.
Increase my portfolio and improve my keywording.
Gain confidence in my abilities.
My stock goal is to upload the over 250 images I have ready to upload, but haven't got around to doing; and to be more consistent this year by uploading every week.
To double my portfolio to 2,000 photos across the 8 sites where I have photos for sale.
I would like increase my portfolio by at least 500 photos.
Take more photos and get more sales.
Submit submit submit. I have so many images for submission. And more to edit.
I'd like to shoot new photos with the help of your roadmaps and start submitting monthly to sites.
Take better photos, upload more and sell more.
Start taking photos again! This will be a good year!
I'm working on my goals for the year, too, and I'll share those with you — along with Breakfast Stock Club reader's best-selling photos of 2014 — in the next issue. Let's help keep each other motivated on the Breakfast Stock Club Facebook page, here. Here's to making the most of 2015! — Bonnie Bonnie Caton Creator, Breakfast Stock Club P.S. Breakfast Stock Club Premium members get a leg-up on their stock photo success with monthly encouragement and real life support from today's stock photographers. Try it out and see what it can do for you, here.