30% of His Income Comes from Stock Photography
Boone Rodriguez only uses stock photography to supplement his income.  The rest of his income comes from other types of photography. Scroll down to see his best selling image and advice for you, if you're interested in trying microstock photography… FROM 35 CENTS PER IMAGE TO 30% OF HIS INCOME     An interview with stock photographer Boone Rodriguez in Portland, OR LORI: How long have you been a photographer, and how did you get started in stock? BOONE: That's a tricky question.  I grew up snapping frames on a 110 "spy camera" that I loved.  Not long after, my Grandpa let me use his 35mm gear which never left my side.  It was after college that I picked up a digital SLR and started to work toward developing my own style.  I would shoot anything I could.  The next year was 2005 and I started submitting images to istockphoto.com, as well as shooting weddings.  I had been inspired by a friend of mine who made $50,000 a year at istockphoto.com.  The reality came after uploading some images that made 36 cents or a dollar.  Crazy enough, I didn't give up, and by trying to shoot different subject matter, I found my niche shooting people, and those images started to get licensed more and more. LORI: Is stock photography your main source of income? BOONE: I would say right now that stock provides around 30% of my income.  I shoot weddings full time, as well as commercial photography.   In 2008, I was making twice as much from my stock sales which at the time did account for a larger portion of my income. LORI: What do you like most about being a stock photographer? BOONE: I love the flexibility to dream up personal shoots, produce them, and ultimately be able to shoot for myself.  Also, having a residual income is very nice.  It makes is easier to be a full-time photographer, not always having to bend over backwards to find clients or take jobs I don't want to take. LORI: The majority of your portfolio is made up of people photos. Is that what you like to shoot best? BOONE: If you look at my Pinterest inspiration board, or my website, you'll see the kinds of images I refer to for inspiration.  Shots with people, style, and feeling, however, are what I've been pinning as of late.  I'm drawn to images that make me say "I'd be friends with that guy" or "I want to go to there" or "I could see myself doing that!"  Sometimes, it's more than that, and images that inspire me are purely images of the couture of our times.  The common thread is that they include people. When I'm planning a shoot, these scenarios are the first place my mind goes.  I think that's why it's my best work. And, by having fun on set, I'm able to get a light and natural look from my subjects.  Also, in my experience, I would say that people shots are generally the top sellers on stock libraries. LORI: What's your best-selling photo, and why do you think it sells so well?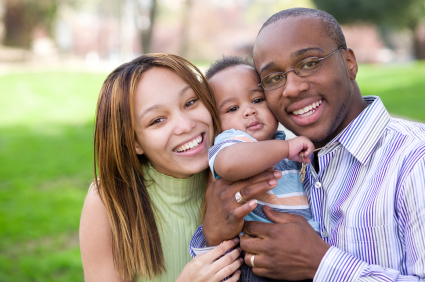 BOONE: This image of a young family is among my top producing images.  I think it has done well because, first of all, they fit the demographic buyers are looking for.  They're a young, good looking, diverse family.  Regarding style, their clothes are interesting but simple and clean cut.  They are very relatable to other young couples or families.  I photographed them with a 70-200, so the background is not distracting.  Another helpful facet is that I've photographed this family a few times, so in my portfolio there are a number of quality images that buyers can use of this same family if they are looking for that.  Perhaps something with just one of their sons, or just the guys.  I always try to give photo buyers options. LORI: What is your favorite photo in your portfolio, and why do you like it best?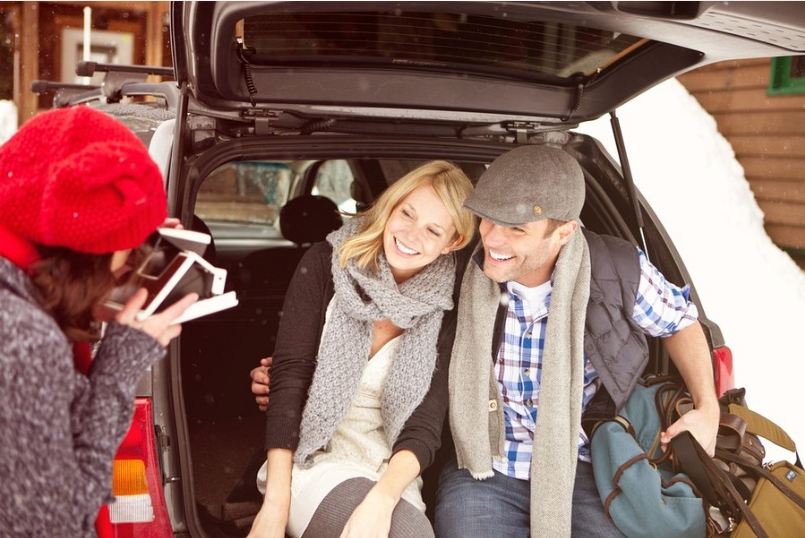 BOONE: One of my favorites at the moment is this leading image from a shoot I called Mt. Snowtastic.  It's a good reflection of where my style is heading for right now. I love the easy, fun, carefree look the models are giving off.  And I like that it feels like we're all about to go kick it over a long weekend in a cabin on Mt. Hood.  Stylistically, the snow, wardrobe, and sx-70, cabin and jeep make it all come together. LORI: If you could sum up your experience with stock photography in one sentence, what would it be? BOONE: Shooting stock photography has allowed me to shoot for myself and have a great time doing it. LORI: And finally, do you have any tips for people who are getting started in stock right now? BOONE: Pursue the imagery that you love and shoot best.  Read and talk with all the folks you can on licensing and pricing.  Ask for critiques from more established photographers and keep a tight portfolio. [Editor's Note: Learn more about how you can turn your pictures into cash in our free online newsletter The Right Way to Travel.  Sign up here today and we'll send you a new report, Selling Photos for Cash: A Quick-Start Guide, completely FREE.]