The Automobile Club of Southern California publishes magazines that feature worldwide destinations for members from Maine to Hawaii, so we're always interested in developing relationships with new photographers. 
Here are some things to keep in mind if you're sending photos but no story.  If we're going to try and match your photos to someone else's article, you need to think a little differently…
1) Include specific AND generic photos with fresh compositions
Sometimes specific locations and landmarks are needed to complement a story.  But just because we need a photo of a common location — Rome's Coliseum or Diamond Head in Honolulu, for example – doesn't mean we want a common photo.  Why not also provide some unconventional angles?
As you try to sell your photos to magazines, fresh compositions of familiar subjects stand out in a sea of stock photos so long as you don't go too far and make the subject unrecognizable.
Shot variety improves your chances of having more of your photos published, even landing a cover image. Shoot vertically and horizontally, and at dusk and dawn. 
And sometimes we use generic photos too — tropical locations or European cities you can't quite identify by the photo but you know they "look" European or tropical.  We use these to provide a sense of travel without being directly quoting a place. 
If submitting this type of photo, the same above and below guidelines apply.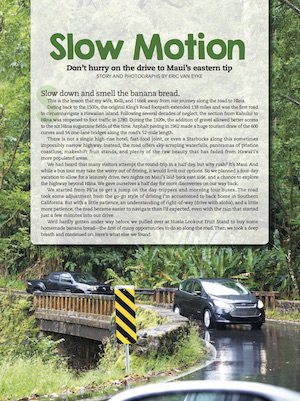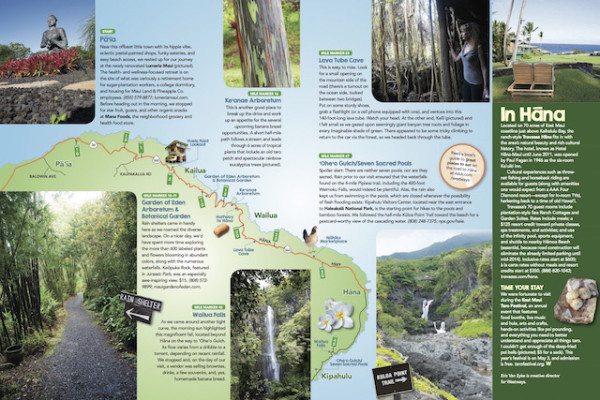 2) The devil is in the details: Use your metadata.
In a program like Lightroom or iPhoto, embed as much information in the metadata of the image as you can. Date, location, landmarks, time of day are all useful tidbits. Readers are sharp and they can tell if a photo is old and a location has changed.
Example: Westways recently ran a stock photo of Christchurch, New Zealand, and a reader wrote to tell us that the photo must have been old because it featured a church that was destroyed in a 2011 earthquake. With more complete information, we might have selected a different photo, or at least mentioned the earthquake in the caption.
3) Include people and then don't.
Try to include photos with and without people. People looking at the landmark with their backs to the camera can be a very small part of the image, while still creating the feel that the reader is there with other travelers. 
It's often better if people are just extras and not the focal point: A photo with a romantic couple probably won't work with a single mom's first-person story about traveling with her kids.
If people are recognizable, try to get model releases. They give you more opportunities to sell the images, and the names will be handy for captioning. It's better to provide too much data than not enough.
4) Mind your manners
If sending actual photos on spec, send only a few low-res examples.
If you can link to a photo-sharing website, even better, so you don't clog someone's e-mail account with samples.
5) And finally, be organized. 
No matter how or why you are submitting images, be clear and concise. Label your images and present them logically.  If your images are easier to find and navigate, we'll find it easier to use them (and pay you for them).
[Editor's Note: Learn more about how you can fund your travels and make an extra income with photography, travel writing, blogging, and more in our free online newsletter The Right Way to Travel.  Sign up here today and we'll send you a new report, Profit From Your Photos: A Quick-Start Guide, completely FREE.]