Choosing the winning photos for last month's theme, "Hospitality and Welcome," was difficult. In the end, after narrowing my favorites down to six, I had to choose based on the captions each photographer wrote under their pictures.
Photo captions are important. Professional photographer Rich Wagner will tell you that the caption alone puts this picture among his best sellers…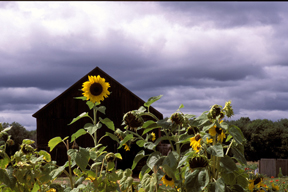 CAPTION: The optimist
Point is: while the captions are proving important in our monthly photo challenges, they're equally as important when it comes to increasing the salability of your photos.
We'll focus on captions further in issues to come. But for now, let's turn our attention to this month's winners. As always, it's last month's challenge winner who chooses this month's First Place photo. Let's take a look at her favorite pick…
FIRST PLACE – A WELCOME KISS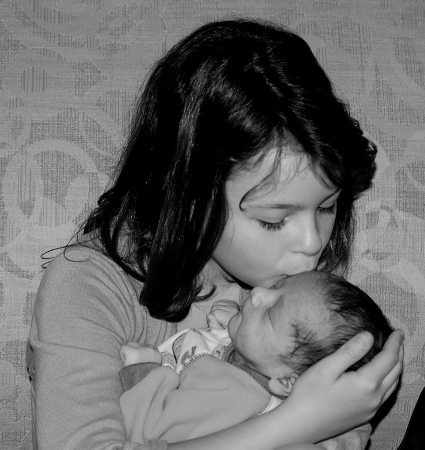 Here is what last month's challenge winner, Michelle Steil, had to say about her choice:
"I chose A Welcome Kiss as the first prize winner because the photo exudes warmth and love, which are key elements in the most wonderful welcomes.
"The photographer caught a precious moment on film. The newborn is comfortably asleep in the arms of a young girl who is also truly cherishing a peaceful moment.
"The black and white has nice tones and is perfectly in focus. The background is simple and not distracting, and the wallpaper works well in black and white. The amount of shadow is also natural. The shine in the young girl's hair and the children's smooth skin help give a soothing feeling to the photo. It's close, so the focus is clear and you can see some details. This is a welcome every newborn should have! Great shot."
I agree: This shot is tender and sweet and does a good job of portraying our theme. That said, I think the light could be a bit more soft and natural. I bring this up simply because there's an easy fix. You simply use an external flash and bounce the flash off the ceiling or use a tissue to diffuse the light a little.
Keep in mind, too, that when you use a flash, it's wise to pull your subject away from walls or other items in the background — the farther the better. That way shadows won't be a distraction in the final shot. (See the shadow of the baby's head under her sister's fingers? By applying these techniques I've just mentioned, you can eliminate that.)
SECOND PLACE
For second place I have chosen "Welcome Gifts" by meshuganut.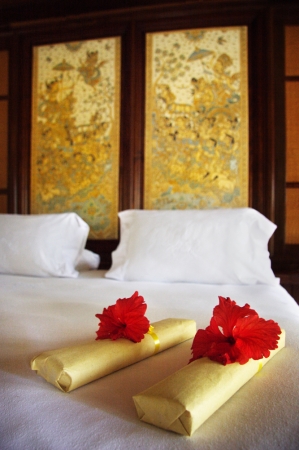 I like this photo for several reasons…
1. The image is strong with a repeating pattern of twos (two gifts, two flowers, two pillows, two wall hangings).
2. There is good depth in the photo, from the gifts across the bed, all the way back to the wall.
3. The use of daylight streaming into the room provides a nice natural light and the image has a nice balance and feel to it.
4. An editor would like the informative caption. In this instance, we learn that this photo was taken in Bali, in Southeast Asia. And we learn, too, that hotels pamper their guests with little gifts like these. This specific detail is revealing.
Now, to be honest, this photo I chose for third place really deserves higher marks. It's a beautiful photograph but I gave it third place because the photographer didn't use the caption to relate the picture to the theme of the challenge.
THIRD PLACE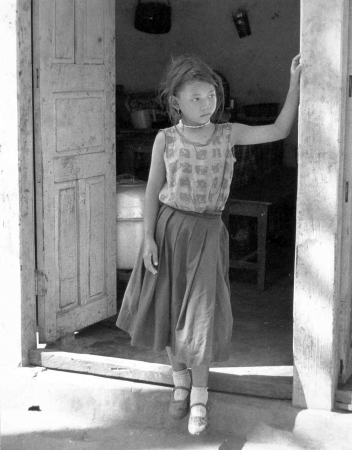 Caption: b/w young girl standing in doorway. Shot just outside Kathmandu. What struck me was the pretty little necklace even with tattered clothing.
That caption is descriptive but I wondered how this shot actually applied to the theme "Hospitality and Welcome." It's a doorway. I can make the leap. But I shouldn't have to. And while I'm forgiving enough to put this in my top three picks, an editor might be less so.
Point is: Captions can sometimes make the sale. You should keep that in mind when you're writing them.
This month's theme is "ALL THINGS EDIBLE" and we're already off to a great start with several strong submissions.
If you'll be joining us in Paris next week for our photography and writing workshops, get your camera ready — decadent chocolates, street cafes, fromage, and a wide assortment of other fine foods await, in photogenic glory, your arrival.
Congratulations to our winners and to all of you who submitted photos last month!
As always, the first-, second-, and third-place winners will all be entered in the grand prize challenge in October for a chance to win $2,000.
ENTER TO WIN!
If you have a picture that matches the theme for May — "All Things Edible" — log on to our website at http://www.thephotographerslife.com and register to win.
First-time users should register using the "register" link on the right side bar. Once you have a username and password, click "Enter to Win" to upload your photos. Only one photo per applicant will be considered.
[Editor's Note: Learn more about how you can turn your pictures into cash in our free online newsletter The Right Way to Travel. Sign up here today and we'll send you a new report, Selling Photos for Cash: A Quick-Start Guide, completely FREE.]