Professional photographer Rich Wagner just left Sydney on his way to Melbourne for our first-ever Great Escape Publishing's photo expedition in Australia.  Here's his first report… *** Lunch today was kangaroo pizza: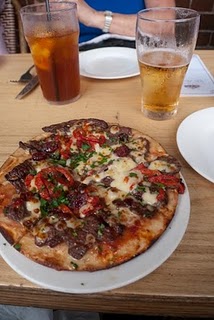 We all ordered individually, then shared. I tried kangaroo pizza and emu pizza (the emu is a six-foot tall bird that is very dumb and runs beside cars like a dog, then crashes through the windshield without any notice), followed by tandori chicken pizza with mint yogurt. All washed down with a Chandy. The Great Escape Publishing's photo expedition group is great. Five from the U.S. and three from Australia. Here's a picture: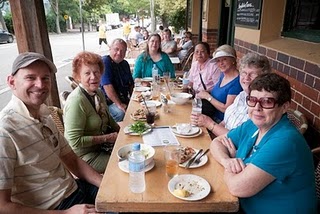 Vera, second from the bottom on the right, is a "ten pounder." In 1971, the Australian government wanted to settle the country, so they flew anyone from England that wanted to come in return for just 10 pounds. She's been here ever since. She lives in a small town in Queensland with a population of 350. Once asked by her sister whether she watched the stoplight change for excitement, Vera replied that the nearest stoplight was four hours away. We all hiked over the Harbor Bridge after lunch and took photos from the center of the span. What an amazing view! We have to watch our language here. Asking if you can take a picture will sometimes result in a photo of a barmaid and a "pitcher" of beer: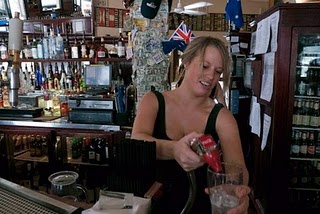 Oh well, that's what friends are for. Tonight I'm taking the group on a night shoot of the harbor and a bonus ferry trip from Sydney Harbor to Darling Harbor, then a walk back (or monorail if they're tired). Tomorrow is Australia Day, like our Fourth of July. We'll be photographing the tall ship races from the harbor in the afternoon and spend the evening with the fireworks on Darling Harbor. I'm planning to wear them out, in the great tradition of an Great Escape Publishing's photo expedition. Wish you were here! — Rich *** — Lori Lori Allen Director, Great Escape Publishing P.S. On Saturday I'm going to announce next month's photo challenge theme. But first, professional stock photographer Shelly Perry has a tip on how to make your average snapshot more saleable. I'll send it your way tomorrow.