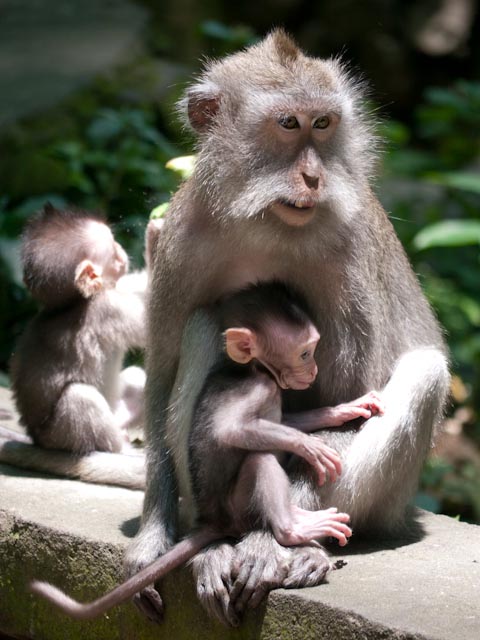 In this podcast, Great Escape Publishing Director Lori Allen interviews professional photographer and Bali workshop instructor Rich Wagner. Listen in to hear Rich's latest photo tips and advice—straight from the Monkey Forest of Bali…
---
Podcast Transcription
LORI: Hi this is Lori Allen with the Great Escape Publishing. I'm on an Ultimate Photography Expedition with professional photographer Rich Wagner, and the sound you hear in the background is the sound of a waterfall. We're standing at the base of the Monkey Forest in Bali Indonesia…
I think the biggest challenge we have here is possibly getting good pictures of the monkeys and getting good photos underneath the jungle canopy where it seems to be low light, and possibly some extreme light peeking through as well. So that's been a challenge.
Rich, can you give us some advice about shooting in a situation like this?
RICH: Absolutely. My technique in this is to use my telephoto lens. I'm really up at around between 150 to even 400mm on the end. And, I have my camera set to auto ISO, that way if the light changes a little bit my camera will make adjustments to the ISO and I'll still get my shot.It's been working beautifully.
The monkeys have bigger hands than I do… and that's saying something. The telephoto lens lets me zero in and get the expression—even the catch light in their eyes. It's just a fabulous experience. This is my second day shooting in the Monkey Forest, and if I had a tent, I'd be here tonight.
LORI: Thank you Rich!
[Editor's Note: Learn more about how you can turn your pictures into cash in our free online newsletter The Right Way to Travel. Sign up here today and we'll send you a new report, Selling Photos for Cash: A Quick-Start Guide, completely FREE.]