When you sleep in a house above the ocean, it doesn't sound how you'd think. You don't hear waves but a constant rushing and hushing, rising and falling. Almost like a highway going through your yard.
Bonnie here, coming to you on our third day of taking photos of the things that make us thankful. If you missed why this will make you happier in life, read this.
Today, I'm thankful for taking a leap and getting this: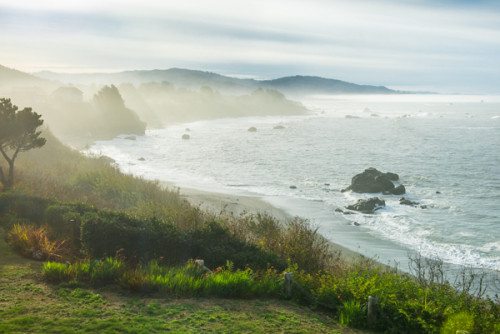 I'm moving to the southern Oregon coast, and it's been tough finding a place to live. We looked and looked… but every place said "NO DOGS" until we stumbled on ONE spot… and it was open. It happens to look over the ocean.
In fact, I took this photo from my office window!
Every year I learn more and more that you don't get stuff like this by sitting still. I'm not rich… I'm not a good negotiator… I'm not a real estate expert… but now I live and work right on the ocean. And for that, I'm so thankful.
I'm also thankful for the opportunity to take and sell ocean photos as stock… print some to hang on my walls as fine art… use the sea as a backdrop for portrait clients… and who knows what else!
What are you thankful for today? Take a photo and share it on Facebook. Then, put it up for sale on sites like Bigstockphoto.com, Shutterstock.com, and iStockphoto.com.
There are lots of places where you can sell photos like these.  Colleen Bessel made $700 last year selling her photos on note cards.  Wayne Hoover told me he's earned as much as $1,500 per image sold as fine art.  And my two best-selling images on these stock sites has earned me more than $1,055.
It's a numbers game… and the faster you get started selling stock photos, the more you can earn.
[Editor's Note: Learn more about how you can fund your travels and make an extra income with photography, travel writing, blogging, and more in our free online newsletter The Right Way to Travel.  Sign up here today and we'll send you a new report, Five Fun Ways To Get Paid To Travel: A Quick-Start Guide, completely FREE.]