Happy New Year! 
And a big THANK YOU to everyone who filled out this year's Breakfast Stock Club reader survey. I love hearing what you've been working on and seeing all the progress you made! That's truly the best part of Breakfast Stock Club — that we can encourage, inspire, and support each other in reaching our goals.
If you're just starting out or haven't made your first sales yet, don't worry. 
Everyone has to start somewhere. Starting now, you could make 2016 your year to finally get the ball rolling. 
The thing with stock is that beginning is the hardest part. Once you're past that, it's a lot easier to keep up your momentum. But in the beginning it's important not to compare yourself with others. Just focus on doing what you need to do to progress. Everyone can do this — the trick is to begin.
So, without further ado, let's take a look at what we did in 2015!
Progress
First off, I have to say that I am once again super impressed with the numbers this year. Collectively, we're on a roll. It's clear that you're building on previous work and taking it further. With 42.5% of respondents joining additional agencies, we're way up in this area than last year. Awesome!
Also, a whopping 90% of respondents continued to build their portfolios and improve their images. That's huge. The fact that you got out there and took more photos really shows in the sales numbers this year…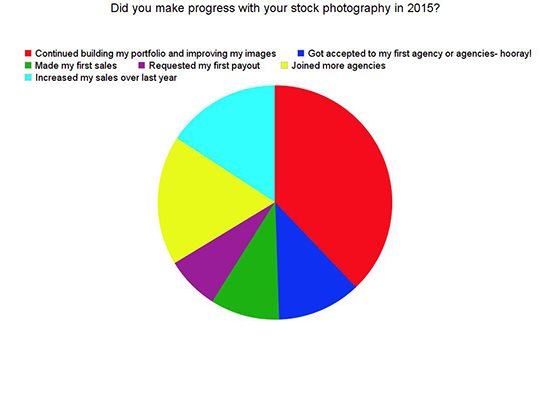 Sales
37.5% of respondents increased their sales over the past year, and 17.5% requested their first payout. Both of those numbers are way above last year. 
Agencies
Among Breakfast Stock Club readers, the top agency for number of images sold in 2015 was Dreamstime by a fair margin. Bigstock took second place, while Shutterstock, iStock, and Fotolia nearly tied for third. Others on the list included 123rf, DepositPhotos, Canstock, and Alamy.
However, for total earnings, Shutterstock took first place with iStock coming in second. Dreamstime and Fotolia tied for third.
Achievements
Here are a few of my favorite achievements that readers shared from 2015:
Getting over the fear that I could not do it and would not be accepted.
Regular submissions to my agencies.
Deciding to engage in photography again – a passion I was forced to give up over 30 years ago.
Taking that first step and submitting photos.
I'm taking better pictures — practice, practice, practice.
Raised my acceptance level to over 90% on iStock.
Discovering what sells and doesn't sell, then being able to adapt my photography to that.
Having 200 images accepted.
Lots of small achievements: 1) Finding one of my photos used by Disney on their site. 2) One of my photos used in nationally syndicated newspapers across the country 3) Having photos sell every single day of the year 4) making more money than last year.
Finally being accepted to Shutterstock!!! I wish I could say I accepted my first payout, but I am only a few dollars away and I still have a couple weeks left in 2015.
I will have 50 images in my portfolio by December 31st.
Starting! I finally put up a handful of pics in the spring, then tripled the number a couple of weeks ago.
I got started. I am enjoying the challenge and learning on this stock journey.
Money being deposited from Shutterstock into my Pay Pal account!
Getting my first batch of photos accepted to three agencies!
Sold a rights managed photo of my cat at Alamy for $1,300 (which ended up as a $650 commission to me).
I received my first payout this year — then received two more!
Thank you for sharing all your successes! This truly motivates ME to get going, too.
Next week I'll share my photo income goals for 2016, along with the most common reader goals. This kind of stuff will help me put together issues that fit your goals. If you weren't able to complete the survey, go ahead and share your photography goals for 2016 on the Breakfast Stock Club Facebook page.
Let's keep each other motivated into — and beyond — the New Year!
Editor's Note: Learn more about getting started selling your photos online in stock agencies – no matter how much or little photography experience you have – in the Breakfast Stock Club e-newsletter. It's once a week, and it's free to join, here.