I think last week's photography expedition to Ecuador will go down in the books as our best yet.  Attendees gained new photography skills… plus Spanish, too.  (We teamed up with Gary and Merri Scott to offer their SuperLearning Spanish program to all our workshop participants.) So this morning — just to remind myself of our fabulous trip — I ate a few bugs for breakfast. Do Ecuadorians eat bugs for breakfast?  No.  But apparently we do here in the States and so do most Canadians and Europeans. In fact, you probably eat bugs (or at least bug guts) every day and don't know it.  You may even be smearing them on your face.  Let me explain… On one of our excursions outside Cotocachi, we went to Peguche (the village of the weavers). [Note: This part of the country still operates on an old guild system so towns and villages center on trades.  There's the woodworking village, the leather village, and the village of the weavers.] And in this Village of the Weavers, we met the owner of El Condor, a three-story shopping mecca for woven goods. She took us down to her basement to show us how she creates the dyes they use to color woven blankets, table runners, and sweaters. Turns out, the dye is a bug. When crushed, the female cochineal insect releases a lovely carmine, or deep red, color.  And by adding a squeeze of lime, you can actually change that red to a vibrant orange or yellow. You can see the bug circled here in this photo: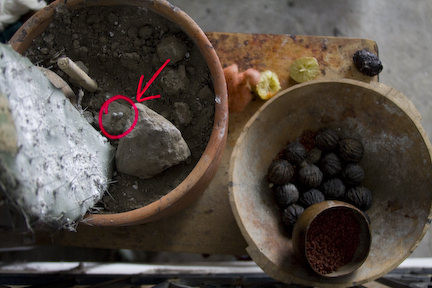 The weavers were making a deep purple color with it, too.  You can see the colors in the spools of thread in this photo, where a woman is holding the cochineal bug in her hand: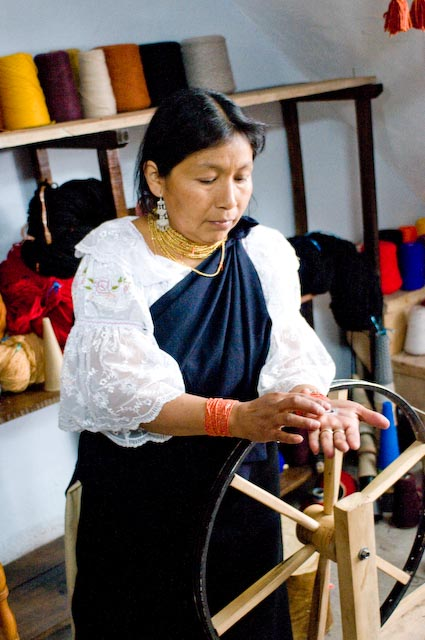 And in this spool of yarn being spun below: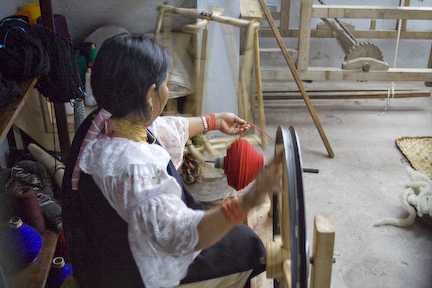 These were all colored with the cochineal "extract" … a nice way of saying bug blood and guts. Some foods are colored with that extract too. If you see "carmine" or "cochineal extract" on the list of ingredients in that strawberry yogurt you're eating, it has the red bug juice in it. I checked my fridge, and it's in both my yogurt and my grapefruit juice.  You'll find it in some "all natural" cosmetics and cheddar cheese, too. Food, clothing, cosmetics, paint, watercolors, and lots of other products created and sold all over the world use carmine red.  And it's become especially popular now that "all natural" products are in high demand. Such demand drives farmers across Mexico, Peru, Chile, Ecuador, and other warm countries to grow prickly pear cactus, which the cochineal insects live and feed on.  And it's all for the color in the belly of the bug. Local farmers painstakingly pick or brush the insects off of the cactus when it's harvest time.  They'll sell them in bulk to dye production companies, who need around 70,000 insects to produce one pound of dye. So this morning I enjoyed a pink-colored Yoplait strawberry-banana yogurt with bug guts in it.  And I thought… "Ah, Ecuador… " I learned so much on this trip, I can't wait to go back. — Lori Lori Allen Director, AWAI Travel Division P.S. The cochineal extract won't hurt you. And many companies prefer it to artificial dyes, like the most popular Red #40, which is made from coal tar.  If you want to know if you're eating food or using products dyed with the cochineal insect, look for cochineal extract, carmine, or carminic acid in the ingredients. You can see it in these ingredients from a box of Nerds candy:

Right there on the second line is "Carmine Color."  Yep, bug juice. If you're interested in learning more, here are a few detail-rich sites to check out: Article about cochineal dyes from NPR Wikipedia Entry on cochineal dye P.S.S. I'm already planning our next trip to Ecuador for this coming August.  I can't wait till next year to go back and neither can you.  One attendee on our trip loved it so much there she bought a house.  And my husband and I are reconsidering that apartment in Quito.  Whether they move the airport or not, I'd love to spend our winters there.  Or at least use it as a getaway once or twice a year. So I'm going back.  And I think you should come with me.  Go here to read the details and sign up. We didn't do the destination justice when we advertised it the first time.  It not only exceeded my expectations, I think I'm putting it down in the books as our best workshop EVER.  You have to experience it for yourself to believe it. I'm going back and I'm bringing my family.  Rich Wagner, our lead photography instructor, wants to bring his wife and two other couples.  And Jackie Flynn, our marketing director, might not come for the workshop but she definitely wants to spend the month of December at El Meson, the hotel where we set up camp on this expedition. It was a life-changing experience for all of us and you really can't afford to miss it.  I'll drag you kicking and screaming if I have to.  But you have to go.  It's that great. Go to our Ecuador website for more information about the trip!  Click here: www.lorisentmeecuador.com. Learn more about how you can turn your pictures into cash in our free online newsletter The Right Way to Travel.  Sign up here today and we'll send you a new report, Selling Photos for Cash: A Quick-Start Guide, completely FREE.