Yesterday, I sent you three photos from Efrain Padro's trip to San Francisco and we talked about what makes them saleable images. Below are three more. Remember: Photos like the ones I sent yesterday (and even the ones you'll see below, today), sell well to stock agencies, magazines, newspapers, and more.  For stock, however, the labels and awnings in the photos below would be a problem. Scroll down to see Efrain's last three shots and what makes them saleable editorial photographs… –Lori Lori Allen Director, Great Escape Publishing ******************* November 18, 2010 The Right Way to Travel ******************* CAPTURING A PLACE IN 6 PICTURES – THE PHOTOS, PART II by Efraín M. Padró in Santa Fe, New Mexico Wrapping up the series on capturing a place in 6 pictures, following are the remaining subjects I set out to photograph in San Francisco, with explanations: 4. What's there to eat?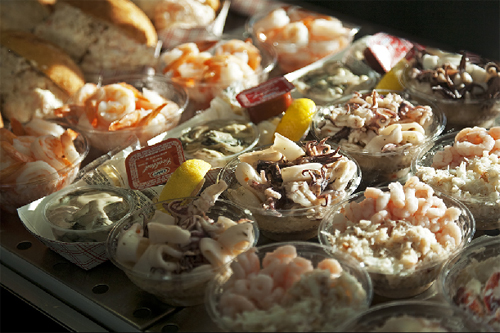 No matter what part of the world you are visiting, there is always a dish or food specialty the place is known for.  Getting some shots of the specialty is always a good addition to your portfolio of images. San Francisco has always been known for seafood, so I visited Fisherman's Wharf and explored the many stalls selling all types of seafood-based snacks like shrimp salad and crab sandwiches. The image above depicts the variety of available dishes, presented in a colorful and graphic (rows) manner. It is also a tight, detail shot, which editors regularly use in feature articles. 5. Where is a cool place (or area) to stay?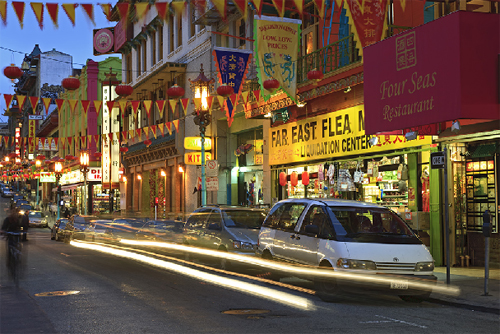 Lodging and the surrounding area, being a traveler's home-away-from-home, are usually very important to travel publications. Sometimes the hotel itself is famous enough to warrant a picture, while other times it's the area that's interesting. Although many visitors to San Francisco like to stay in or near Fisherman's Wharf, I selected instead an image of Chinatown for its color and authentic feel. (Unlike Fisherman's Wharf, amid Chinatown's inevitable souvenir shops there are many businesses patronized mostly by locals, like flower shops, vegetable stalls, and Chinese bakeries.) I took this shot at twilight, to make sure the store lights and street lamps were on, and waited for a car to drive by to get a blurred light streak, adding to the color and vibrancy of the image. 6. What's a cool thing to buy?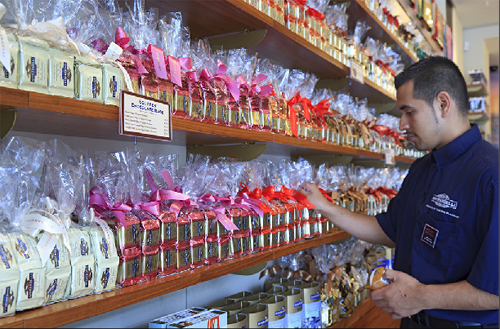 After sweatshirts that say "I escaped from Alcatraz Psych Ward," I thought Ghirardelli chocolates would make for a colorful image of the what-to-buy subject. I stopped by one of the Ghirardelli stores in the business district (the Fisherman's Wharf branch would have been mobbed) and asked for the manager. (If you come into a store with a large camera and start photographing products, you will likely raise suspicion.) After identifying myself and explaining what I was doing, the manager was kind enough to pose for me as he was stocking the various chocolate products he was selling. The picture's subject is clearly the chocolates, but including a person added human interest. 7. One more thing…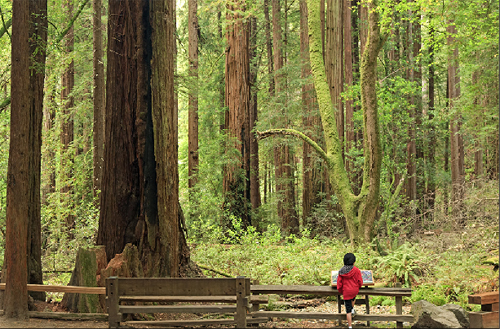 Although having a shooting list is important to keep you on track, especially when time is tight, it is also important to be flexible enough to allow for the unexpected subjects you will encounter. In my case, I traveled north of San Francisco to the Muir Woods National Monument. Located 11 miles from the Golden Gate Bridge, this small park features a giant old growth stand of coast redwood trees and offers a quiet sanctuary within an urban setting. I thought a picture of the forest would work nicely with my otherwise urban-themed images. The picture I selected depicts a child standing in front of an interpretive sign, dwarfed by the large trees. Including the child adds scale, a human element, and the feel of wonderment when you stand among these ancient trees. Keep in mind that I photographed many more subjects than those described above, and so should you. Having a shooting list should not limit your photography; rather, use it as a starting point to focus your efforts. For example, my shooting list included subjects like Alcatraz Island, Little Italy, and The Ferry Building, all of which I visited and photographed. Other subjects on the list, like the Painted Ladies (a row of beautifully preserved Victorian houses) and Golden Gate Park, I had no time to visit. Next time I visit San Francisco, however, I will already have my shooting list. [Editor's Note: Learn more about how you can turn your pictures into cash in our free online newsletter The Right Way to Travel.  Sign up here today and we'll send you a new report, Selling Photos for Cash: A Quick-Start Guide, completely FREE.]