Last month I sent you a few tips from professional photographer Efraín Padró on how to effectively capture a city in just six easy photographs. If you missed it, you'll find that issue in our archives here. Photos that do this well make great stock photographs.  Great fine art work.  And typically sell well to magazines and newspapers, too. Kyle Wagner at the Denver Post told me: "There never seem to be enough iconic shots available for any given city, especially photos done from a fresh perspective. The big, sweeping views immediately tell readers where we are, and the rest are crucial for filling in the details." So today, Efraín is back from San Francisco where he took his own advice and found six examples that scream "San Francisco."  Check out the first three below and stay tuned tomorrow, for the remaining three, along with explanations of why they're important to take. -Lori Lori Allen Director, Great Escape Publishing ******************* November 17, 2010 The Right Way to Travel ******************* CAPTURING A PLACE IN 6 PICTURES – THE PHOTOS, PART I by Efraín M. Padró in Santa Fe, New Mexico In a previous e-letter I discussed my plans to visit San Francisco for three days, and I outlined my approach to photographing a subject-rich locale under a tight timetable. My advice was to first research the location to become familiar with it, then draft a shooting list including subjects that answered the following questions: 1. What does the location look like? 2. What's a fun thing to do? 3.What's a fun thing to see? 4. What's a typical thing to eat? 5. Where do you stay? 6. What do you buy? I also added a wild-card subject to allow for (and encourage) flexibility while pursuing the other, more specific subjects on the list. Following is the first set of my San Francisco images, with explanations and my thought process: 1.    What does the place look like?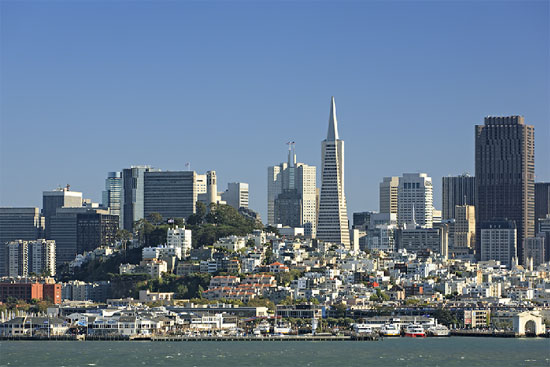 This is what some people call the "establishing shot," the big picture, and it gives the viewer a general idea of what a place is like. Since San Francisco is a large city, I wanted to show its skyline, hopefully with some recognizable buildings in the frame. From my research, I knew I could get a nice shot from Alcatraz Island in the afternoon… after midday sun but before dusk. . But I wasn't sure what view of the city I would have, or whether I could get an unobstructed view. Fortunately for me (and luck does favor the prepared), the view from Alcatraz was unobstructed, and the view from the island included the Embarcadero (docks) in the foreground, Telegraph Hill (San Francisco is known for its hills), and the Transamerica Pyramid. I would have preferred a twilight shot with twinkling lights and cobalt blue sky, but visitors are not allowed on Alcatraz that late. 2. What's one cool thing to do?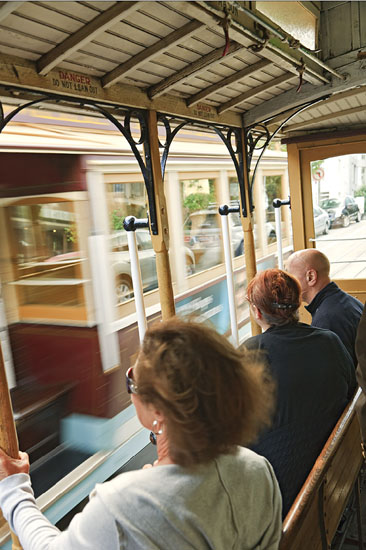 For me this meant riding San Francisco's iconic streetcars. I bought a three-day pass and rode these little transportation tanks whenever I got the chance. Although I managed to get some nice shots of the cars chugging up steep hills, I wanted to get some images depicting passengers inside them. The image I selected here shows another streetcar whizzing by as passengers in our car look on. The relatively slow shutter speed makes the passing car blurred, adding action and movement to the image (something I like). And the addition of people, I've found, makes this photo more appealing to editors because they're always looking to make a human connection with readers. 3. What's a cool thing to see?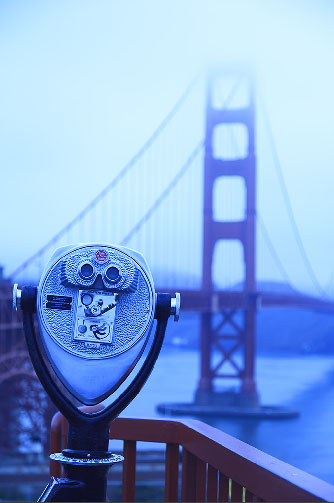 Nothing says San Francisco like the Golden Gate Bridge, preferably in fog. This made my selection for the what-to-see subject easy. My challenge, however, was interpreting this world-known icon a little differently. The morning I visited the bridge was very cool, foggy, and everything was cast in a dream-like blue light. I found the "face" of a coin-operated set of binoculars and placed it in the foreground. I set my camera to tungsten light to emphasize the blueness of the scene which is something you can also do later in Lightroom or Photoshop if you want. I used a wide aperture (low f-stop number) to make the bridge in the background go out-of-focus, further emphasizing the dream theme. I like the image because it includes the bridge (recognizable even out of focus), the blue fog, and it is a little different; it also clearly depicts what you can "see" in San Francisco (get it?). [Editor's Note:  Tomorrow I'll send you more tips and advice from pro photographer Efraín Padró. You'll learn tips on capturing reflections, how and when to take a panoramic photo, and everything you need to know about photo copyright. Stay tuned! Learn more about how you can turn your pictures into cash in our free online newsletter The Right Way to Travel.  Sign up here today and we'll send you a new report, Selling Photos for Cash: A Quick-Start Guide, completely FREE.]