I was just going through some of my most recent travel photos and I was reminded why we do this – why traveling is so important.
This one in particular makes me smile…
You see it and say it's a dead tree.  Others who know where it is in Namibia see it and they know it's a 500-year-old petrified tree that used to be underwater and has now baked in the sun to become stone.  
I see it and I remember how completely open and desolate it was there.  Places like this in the States or Europe would be swarming with tourists (it's not that hard to get there after all).  But on this day there were less than 12.  And even though the sun was bugger hot on my face, the sand was so cold I couldn't keep my shoes off for more than a few minutes without freezing.
And this one…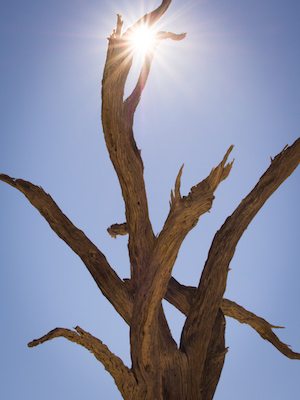 You see light coming through a tree, but I practiced all day to get this shot and others like it.  This was my trip of starbursts and playing with light.  I practiced with my camera at every turn.  Sometimes I got the shot I wanted, like this one…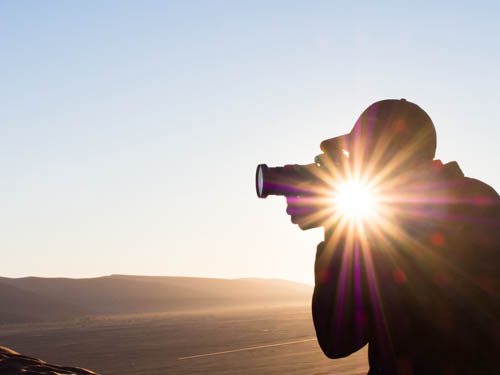 Other times I didn't.  Regardless, I'm so much more confident with my equipment now.
Best of all, I came home rejuvenated with memories I'll have forever — watching the sun rise and fall on red sand dunes that felt like I was sitting on the edge of some strange earth I've never seen before…

Here I am, next to one of the stone trees: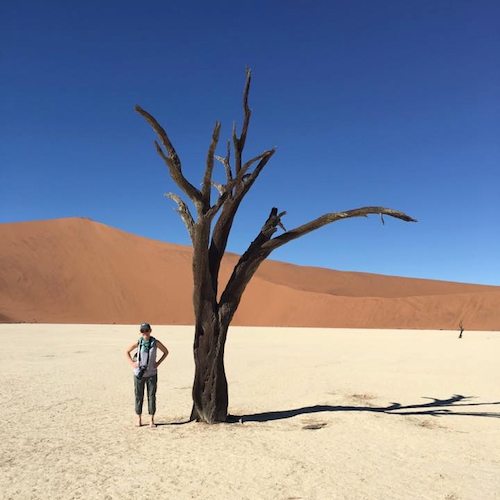 I'll talk more about these photos later this week and how you can take great photos like them. Stay tuned…
[Editor's Note: Learn more about how you can fund your travels and make an extra income with photography, travel writing, blogging, and more in our free online newsletter The Right Way to Travel.  Sign up here today and we'll send you a new report, Profit From Your Photos: A Quick-Start Guide, completely FREE.]