It was quite a challenge to pick the winner's for our "The True Meaning of the Season," challenge. Eleven images made it into my "finalist" category. Cindy-Lou Dale, the first place winner from November, had the honor of choosing first place this month and I could not have agreed more with her choice.
You'll find it here, along with my picks for second and third place:
** First Place goes to Heather Hicks for "Giving with Joy."
** Second Place goes to aod2mds for "Christmas Wreaths at Arlington Cemetery."
** Third Place goes to amsmyth for "Light the Dark."
FIRST PLACE — GIVING WITH JOY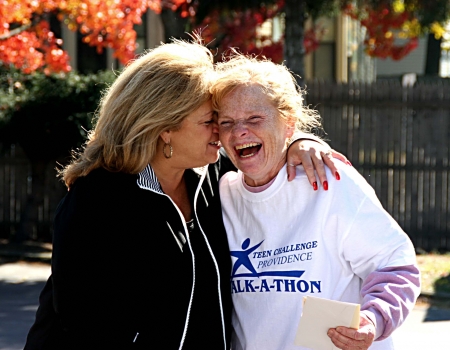 Here is what Cindy-Lou had to say about her choice…
"Heather has captured a moment of beauty, bursting with tenderness in a photograph that perfectly portrays not only warm autumn colors, soft winter sun, and great depth of field, but also illustrates the evident charm of the subjects. This image conveys a message that speaks of their refinement, elegance, eccentricity and magnetism. I just love it!
"It was a very easy choice to make — I just cannot stress how taken I was by that un-posed, unrehearsed photograph. Heather did a superb job!"
"Giving with Joy," as it happens, was my first choice as well. I love the genuine, heartfelt expression and interaction of the two women, as "The True Meaning of the Season" I think this shot has much to say.
You'll notice, too, that this picture has successfully used backlighting. (See last week's issue on backlighting to learn how you, too, can do this well.)
SECOND PLACE — CHRISTMAS WREATHS AT ARLINGTON CEMETERY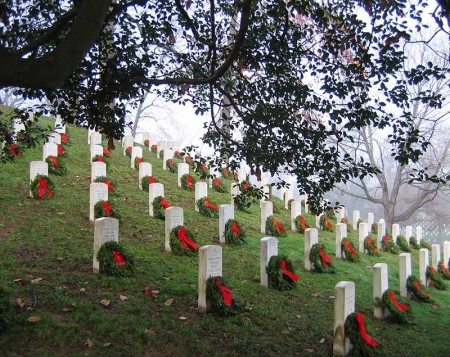 I chose this image for several reasons. First, it really evoked a strong response in me when I first saw it, that's a good indicator that the image tells a powerful story.
Second, it relates to the theme. Of course, I can tell it's a holiday shot with the wreaths, but reading the description, I discover that those wreaths are also a "gift." For so many people, the holidays are a time of reflection, a time to remember those who are missed. To me, this image — much like the first — truly speaks to some of the deeper "meanings of the season," and it evokes a bit of mystery with its dream-like quality.
And finally, from a photographic perspective, I really like the image composition and the symmetry or balance. The rows and rows of headstones and wreaths, even far off in the distance, (lower right) provide a contrast to the trees, limbs, and leaves.
Having limbs and leaves in the foreground as well as the background provides a nice balance, adding depth and dimension to this shot. Notice the strong diagonal line of the hill and yet the headstones and trees are standing straight. There is, in a way, dramatic tension in this image, because of the horizontal line as well as the contrast between not only the headstones and trees but also the grass to the sky color shift.
I also really like that lighter, nearly circular, space in the sky (top left) held in with a tree branch. It draws my eye into the picture and keeps drawing me back there.
You might find that odd that the most "empty" space in this entire image is what really pulls the eye into it. But visually our eyes are drawn to not only the lightest areas of an image, but especially where dark and light intersect. Also empty space provides a place for our eyes to rest.
THIRD PLACE — LIGHT THE DARK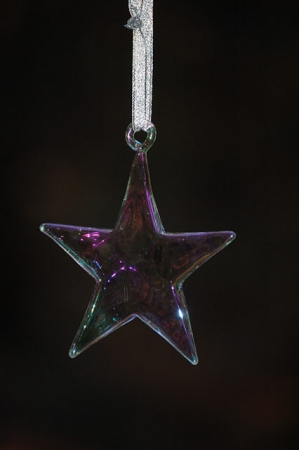 This image is a nice close-up with excellent depth-of-field use (see last month's photo tip on depth of field).
Notice how the entire background is soft and undefined (out of focus), causing the star to sort of pop forward.
Notice also how the contained lighter outline of the star holds the eye more to the center of the star and the highlights of green and purple add interest as well.
For "The True Meaning of the Season" I think this star and this image do a nice job of representing not only winter and the holidays, but the magic, mysteries, and wonders of the season.
Congratulations to each of the winners!!
ENTER TO WIN!
For more information about our Photo challenge click here and register to win.
First-time users should register first on the "register" link on the right side bar. Once you have a username and password, click "Enter to Win" to upload your photos. Only one photo per applicant will be considered.
[Editor's Note: Learn more about how you can turn your pictures into cash in our free online newsletter The Right Way to Travel. Sign up here today and we'll send you a new report, Selling Photos for Cash: A Quick-Start Guide, completely FREE.]