Last month's Photo Challenge results are in. Scroll down to see who won…
All monthly winners and honorable mentions throughout the year will be entered into the Hall of Fame, and have a chance at winning the yearly $2,000 Grand Prize in October.
These Challenges are absolutely free to enter and open to everyone. Next month's theme is My Green Thumb. Check out details for entering.
Lori Allen
Director, Great Escape Publishing
*********************
March 4, 2010
The Right Way to Travel
*********************
Will You Be My Valentine — Winning Entries
By Shelly Perry in Portland, OR
Last month's Photo Challenge theme was Will You Be My Valentine? And let me just say…
As time goes by and readers are implementing the photo tips we share here and improving their photography, the task of judging gets ever more challenging.
January's winner, amaing, was our guest judge this month and had the difficult task of choosing the first-place winner. Here is her choice below.
** First Place goes to PhillDanze for "Courting"
** Second Place goes to butterfly12 for "Mountain Magic"
** Third Place goes to Deborah Kolb for "Take My Heart LA!"
** Honorable Mention goes to DeBeagley for "Near to You"
FIRST PLACE — COURTING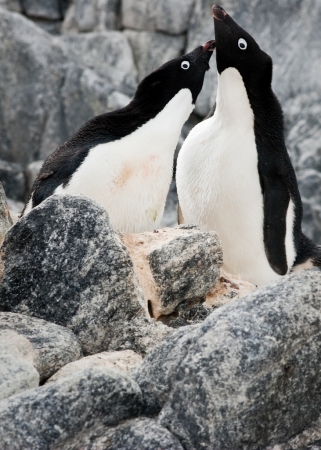 Here's what amaing had to say about her first-place pick:
"This photo speaks to me because courting is an act of showing love, which matches the Valentine theme.
"The black and white color of the birds is complimented by the gray of the rocks. The lighting, focus, and composition are all well done, and nothing is cut off at the edges. The rocks in the foreground provide some copy space for writing if the photo is chosen for a magazine cover. This photo will go well with a travel article, too."
SECOND PLACE — MOUNTAIN MAGIC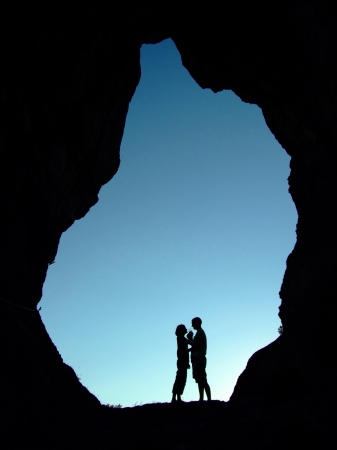 This is a perfect silhouette with amazing detail on the couple and around the edges where black meets blue. Notice what appears to be grass at the left edge. It nearly looks like a drawing. And the framing from the rock formation adds a wonderful element of interest.
The photograph is correctly exposed giving a rich blue sky, and leaving the rest to mystery and wonder. This shot has plenty of copy space, and while it tells a story, it's still generic enough to be useable in a wide variety of situations. A great stock shot.
THIRD PLACE — TAKE MY HEART LA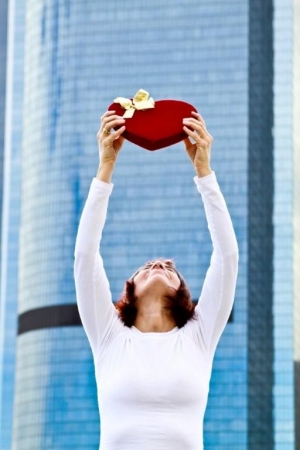 I really like the enthusiasm that comes through in this shot. It feels authentic, energetic, and full of action, even though it may very well be a staged shot. Nice use of a building as a background, and with a shallow depth of field, it becomes a more generic pattern and wash of color. Also, good use of natural lighting.
HONORABLE MENTION — NEAR TO YOU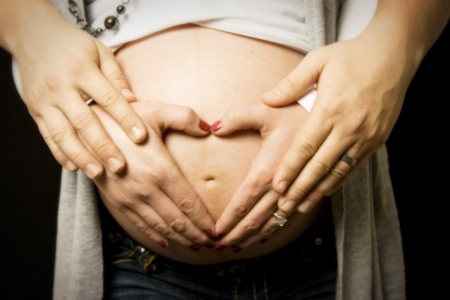 Though I see many takes on this type of shot, this one is well done and compelling. The placement of the hands is nice and the red nail polish is a plus.
What I like most about this shot is the casual feel — the clothing and the necklace are secondary features here, but they set the stage and frame it well. I've seen shots like this work well as stock.
Congratulations to each of our winners!!
The first-place winner will get a $30 gift certificate to the AWAI E-Bookstore, and all winners will be entered into the Hall of Fame, to compete for next year's $2,000 Grand Prize.
[ABOUT THE AUTHOR: Shelly Perry from Portland, Oregon, specializes in people photography, what she calls documentary or lifestyle portraits. She is known especially for her imaging of children. Shelly's concern for people is reflected both in her sense of purpose and the images she produces. Her images have been seen all over the globe on music CD covers, books, magazines, catalogues, web sites, ad campaigns and even on TV. Her work has also appeared in several local exhibits and gallery shows.]
[Editor's Note: Learn more about how you can turn your pictures into cash in our free online newsletter The Right Way to Travel. Sign up here today and we'll send you a new report, Selling Photos for Cash: A Quick-Start Guide, completely FREE.]